Iain Carter's golfing predictions for 2013

By Iain Carter
BBC golf correspondent
Last updated on .From the section Golf7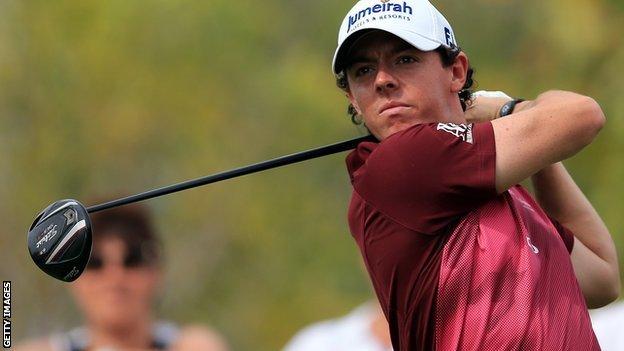 Follow that. 2012 was the ultimate sporting year and golf was not left behind. The game more than punched its weight in a year of drama highlighted by Europe's stunning Ryder Cup comeback at Medinah.
So what lies ahead in the coming year? How can it live up to the standards of the past 12 months? Let's embark on a round of golfing possibilities (some much more likely than others) for 2013.
1. World number one Rory McIlroy announces he is being paid a fortune to use a new swing technique for the next 10 years. He will hit the ball with a swoosh.
2. Paul McGinley is announced as European Ryder Cup captain. His cerebral style is considered best suited to counter the inspirational qualities of Tom Watson at Gleneagles in 2014. Darren Clarke says he is concentrating on trying to make McGinley's team as a player before taking the reigns in 2016.
3. Austria's Bernd Weisberger provides further evidence of his meteoric rise by beating McIlroy in the first round of the WGC Matchplay in Arizona. McIlroy denies he will spend the time off afforded by the defeat with probable fiancee Caroline. "This is not time to take my eye off the ball," he says.
4. Tiger Woods plays the best golf of the week to reach the last four but then starts to balloon wedges over greens and lose his touch from inside 10 feet on the greens. He loses his semi-final to Justin Rose. Woods tells us his game "is in great shape."
5. Rose goes on to take his second World Golf Championship title with victory in the final against Ian Poulter at the third extra hole.
6. During Masters week, Condoleezza Rice and Darla Moore refuse all interview requests about becoming Augusta's first female members. When asked if the club has bowed to public pressure, Chairman Billy Payne says: "We don't comment on membership matters".
7. McIlroy insists the swoosh technique is perfectly suited to demands of Augusta. He and Woods seem to prove this by sharing the halfway lead before Woods falters to a third-round 74. McIlroy's only concern is the precision of his short game and gaining a feel for how his new ball will react on the treacherous greens.
8. Luke Donald, refreshed by a long winter break, charges back from a first-round 73 to move into contention on the final day. He overhauls McIlroy when he daringly birdies the 12th and single putt birdies the next two par-fives to set up his first major victory. (Yes, I've predicted this before, but I honestly believe the best short game wins the Masters).
9. Officials for the Women's British Open tell an April media conference they are thrilled the event is back at St Andrews this year. They are not concerned about changes to the Old Course and the R and A's all-male membership policy is a matter for the club and not them.
10. A week later Royal and Ancient Chief Executive Peter Dawson defends the right of clubs to determine their own memberships. He denies Augusta's new policy has exposed the R and A to ridicule and "notes the comments" of other leading sports organisations who deplore male only memberships.
11. The majority of the media at the news conference decide it would be rude not to have their traditional pre-Open round at the host club this year - the all-male Muirfield.
12. American-based Lee Westwood returns to the UK for the PGA Championship at Wentworth and bridles at suggestions that the biggest thing he has missed is a traditional bacon sarnie. "I haven't touched one of those for years; I'm an athlete," he states with indignation. He's thrilled Nottingham Forest are in the play-off mix but more happy with the progress of Miami Heat.
13. Westwood contends at the US Open because the fairways at Merion are made ridiculously narrow to counter the course's perceived lack of length. But the greens are rock hard, pin positions inaccessible and rough thicker than McIlroy's wallet. Westwood might win - but who knows? It's another USGA lottery.
14. Muirfield by contrast provides the fairest links test on the Open rota. Dawson reiterates his stuff about women members but must feel irritated this subject is on the agenda when the best event of the year is being staged on its best course. It produces a star-studded leaderboard. McIlroy genuinely contends in an Open for the first time, so does Woods who at last gets his act together on the weekend of a major. But it is Rose who comes through to land his first Claret Jug and confirm the huge progress the Englishman made in 2012.
15. 50-year-old Colin Montgomerie says winning the Senior's British Open at Royal Birkdale would be the highlight of his career. He brilliantly makes it to a play-off with Tom Watson after a final-round 63 but is disqualified before the shoot-out starts. Monty doesn't make it to the tee in time because he was stuck in a queue for a bacon sandwich. "I was convinced it would calm my nerves, and I didn't want to spend the time waiting hitting balls like normal pros do," he says.
16. McIlroy says these phrases an awful lot: "You have to win a major to make it a great year," and "My schedule is all about peaking at the right times and getting enough rest," as well as "we'll let you know when there's anything to say" (regarding marriage plans to probable financee Caroline). Hopefully he won't have to say: "The BMW PGA Championship is a great tournament, but this year....."
17. Nigel Edwards says "this would be the ultimate achievement" as he takes a young team to the US to defend the Walker Cup. Rhys Pugh confirms himself as an outstanding prospect with a starring role at the National Golf Links in New York.
18. Liselotte Neumann says "this would be the ultimate achievement" as she takes her team to Colorado to defend the Solheim Cup. Spain's Carlota Ciganda proves herself ready for the big time in women's golf and Catriona Matthew is again the star European performer in their trophy defence. None of the players want to discuss publicly whether the R and A or Muirfield should admit female members.