Darren Clarke to play in Indian city-based golf league
Last updated on .From the section Golf29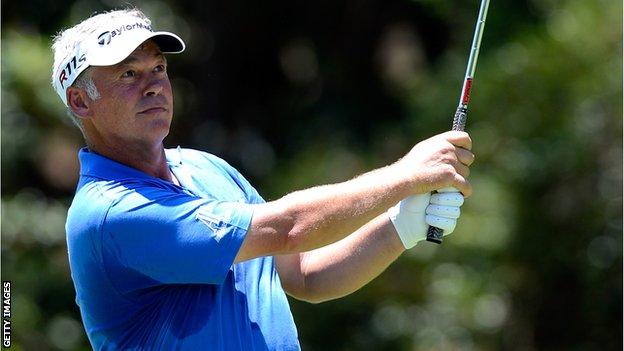 Former Open winner Darren Clarke is to play in a city-based golf league in India in a format modelled on the country's Twenty20 cricket league.
Teams of four players will compete in the inaugural league at a course near Mumbai on 8-10 February.
There will be two day-night rounds of strokeplay, followed by the third and final round of best-ball format, with all rounds comprising 14 holes.
Angel Cabrera, Michael Campbell and Rich Beem are also taking part.
The teams of four will feature local and international golfers.
Indian golfer Shiv Kapur is the driving force behind the new venture and feels playing 14 holes, instead of the regular 18, would make it more appealing to a television audience.
"When I saw the Indian Premier League, I thought it made cricket look cool," said Kapur, whose lone Asian Tour win came in 2005. "I wanted to do the same in golf, without taking away the seriousness, of course."
The 30-year-old added: "It would be a great opportunity for the local players to team up with some of the big names. It would be an experience they would cherish for the rest of their lives."