Tournament of Champions: Strong winds stop play for third day
Last updated on .From the section Golf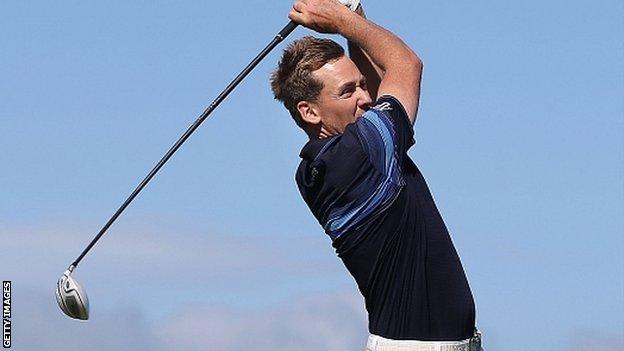 Severe winds forced play to be abandoned for the third straight day at the PGA Tour's season-opening Tournament of Champions in Hawaii.
Scores were scrapped on Friday because of gales and heavy rain, while no play was possible on Saturday.
Just over an hour of golf was possible on Sunday before organisers called a halt and then scrapped the round.
Plans are for a fresh start with 36 holes on Monday and 18 on Tuesday to get a counting 54-hole event completed.
"It's unfortunate but it started off bad and got worse," said Slugger White, the PGA Tour's vice president of rules and operations.
"At the start it was 25mph, gusting 30mph, and that was OK but when it started gusting over 40mph we couldn't get the balls to stop on the greens so we couldn't play."
Ian Poulter is the only Briton in a 30-man field that also includes Masters champion Bubba Watson, 2011 US PGA winner Keegan Bradley and defending champion American Steve Stricker.
"That's not golf," said Poulter, who repeatedly backed off shots as he tried to steady himself in the wind.
"I don't know what that is. You can't pull a trigger. You're taking 20 practice swings because you can't stand up. I guess what we've done is shown everyone it's unplayable.
"In some respect, at least we hit a couple of shots. Three days of sitting in the hotel is not good. At least I've warmed up for something. I'm just not sure what I've warmed up for."
Second-round scores were scrapped after play was suspended because of high winds at the Women's British Open at Hoylake last year.