McIlroy v Woods: The fight to be number one

By Iain Carter
BBC golf correspondent
Last updated on .From the section Golf49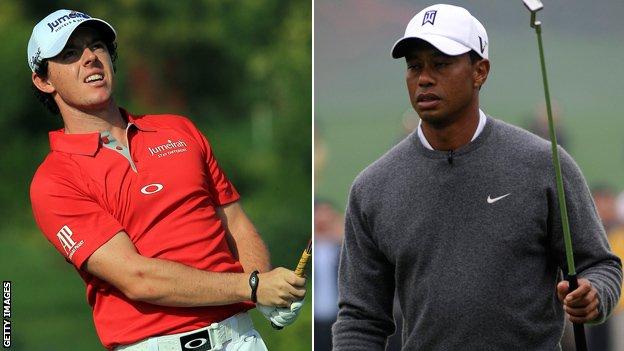 Very few golfing questions leave Sir Nick Faldo struggling for an answer, but this one had him floundering.
The six-time major champion was asked who he thought would be the next world number one after Rory McIlroy. As we head into the 2013 season, this provides one of the most intriguing talking points in the game.
The Northern Ireland player could be ensconced as the game's top dog for months or even years to come. If that proves the case then we are at the start of a new age in the game. Equally, the old guard could bounce back or a previously unheralded star emerge.
As it currently stands, the big boys of the last decade have been eclipsed by a new generation headed by McIlroy.
"We're in a transition era," Faldo noted. "It'd gone quiet for the last four years where we had 15 or 16 different major champions and finally Rory pops out and becomes a multiple major champion."
The coming year will be the time when we find out how the other top names respond. The main question surrounds Tiger Woods and whether he can fight back to regain the territory that he once so utterly dominated.
When McIlroy and Woods make a much publicised joint appearance in Abu Dhabi next week it will say much more about the golfing agenda than the bald fact of them becoming sponsor stablemates.
Certainly the game's power-brokers, administrators, backers and broadcasters are banking on the bromance between the two stars developing into a genuine rivalry.
The prospect of McIlroy and Woods going head to head for major titles offers the most compelling potential storyline golf will have seen for years.
But while the marketeers may have already decided this is the future, there is no guarantee. Woods won three times last season and 2012 was a much improved year. However he failed to genuinely challenge for a major title.
By contrast McIlroy added his second major with his eight-stroke victory in the PGA Championship at Kiawah Island.
"Rory McIlroy had a wonderful year, and my hat is off to him. He deserved Player of the Year," Woods recently blogged.
"Whether we develop a rivalry remains to be seen. Let's just let it play out and see where it takes us. We'll look at the results over the next five or 10 years and see if it becomes a rivalry or not.
"We'll have to win big events and play each other down the stretch. That hasn't happened yet. We've only played each other at Honda down the stretch. We need a lot more of those type of battles, but in bigger events," Woods added.
McIlroy prevailed in that Honda tournament in Florida last spring to go to the top of the world rankings. Now aged 23, he starts the new year with a points average of 13.22, more than four and half points clear of closest rival Luke Donald.
The 37-year-old Woods lies third, just behind Donald, and both players know they need strong results in big events to stand any chance of returning to the number one spot.
So who will be the next man to top the standings after McIlroy? "That's a really, really good question," Sir Nick responded when it was put to him by BBC Radio 5 live's Sportsweek programme. "I'm stumped to be honest."
Interestingly, as the Englishman - who spent 97 weeks of his career as world number one - sought an answer, he didn't mention any of the most recent players to head the rankings - Donald, Woods or Lee Westwood - among potential candidates.
"I thought maybe Keegan Bradley after the way he ended the year before, but he's gone off the boil a little bit," Faldo said.
"Then there are dark horses like Justin Rose who is a fine player who knocks off the odd tournament here or there but is coming in under the radar.
"Or it might just be a player we haven't come close to considering yet because he might be even younger than McIlroy."
Faldo believes we are heading into a golden age for golf. "It looks like it is going to be spearheaded by Rory," he said.
"There's a lot of great players in their 20s and early 30s and if it was me I'd be thinking 'I want my chance at getting among the majors, I've got to beat him and him.'
"So I think we will get a group, the likes of the Bradleys or a Poulter can really step up and polish off a major. It's interesting times, golf is growing in popularity and getting good publicity."
Sir Nick watches it all unfold in his American TV commentary booth but is sure to have an eye on Abu Dhabi next week. He offers an idea of the mentality needed to reach the summit of the game.
"The most important thing is winning. You can get to number one by finishing second every week, but you want to get there as a champion," he said.
Once McIlroy and Woods have completed their sponsorship announcement they will go head to head as they start their seasons in the desert.
Their contest will offer the first clue, albeit a small one, over where the balance of power will lie in what promises to be an absorbing golfing year.