Rory McIlroy: How changing clubs could affect the world number one

By Iain Carter
BBC golf correspondent
Last updated on .From the section Golf23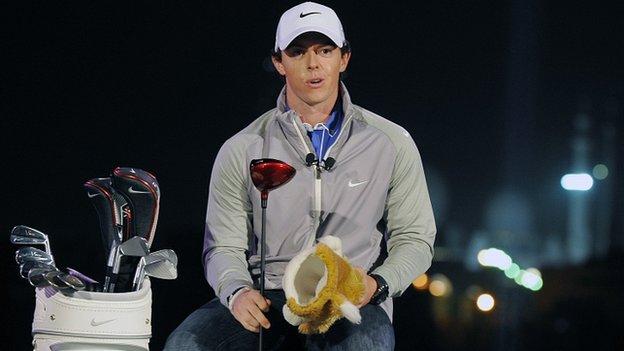 Rory McIlroy has massively improved his already bulging bank account with his huge Nike deal but the move is not without risk to his golf game.
The 23-year-old has ditched the clubs and ball that helped take him to the top of the golfing world, and although he is confident in his new equipment there are no guarantees.
"I call it dangerous,'' Sir Nick Faldo said recently. ''I've changed clubs and changed equipment, and every manufacturer will say, 'We can copy your clubs, we can tweak the golf ball so it fits you'.
"But there's feel and sound as well, and there's confidence. You can't put a real value on that.''
The difference in the clubs McIlroy will be using will be minimal. He will continue to use blade-style irons and the all-important shafts will be the same as he used previously.
What is less certain is the way that the ball will behave. "That's the big question mark," top coach Pete Cowen told BBC Sport.
Cowen has taught several players who have gone through the process of changing manufacturer, including Graeme McDowell who switched after winning the 2010 US Open.
Two years ago he opened his new season with new equipment by firing a 62 in Hawaii to finish just a stroke off the winning score. How McIlroy would love to emulate his close friend's performance here in Abu Dhabi.
"Trajectories change and how the flight of the ball differs can have an effect on how a player sees a shot. It can have a psychological effect," Cowen said.
"It can also make distance control more difficult. It also affects the short game because how chips react and the ball grabbing the green will differ."
McIlroy has been practising hard in Dubai with his new equipment to get used to these subtle changes and ready himself for the start of his new season this week.
Fellow Nike staff player Paul Casey believes the change will be largely seamless because of state-of-the-art monitoring equipment.
"When I came out on tour 10 or so years ago there wasn't the information we have nowadays to fit golf clubs, and interpret what the clubs and balls are doing," he said.
"Tools like Trackman and a lot of biomechanics stuff can tell a player he's swinging the same way and changes are not the player's fault. The Nike staff do this kind of thing day in, day out. They make it pretty damn easy."
Casey is convinced the quality of equipment from all the leading companies mean there is no great leap to be made.
"There are so many manufacturers out there that make such fantastic products," he added. "I hate to say it but they are ahead of the governing bodies, they really are.
"The R and D [research and development] dollars that are spent are phenomenal and so the switch, I don't think, is as big a deal as it used to be. Plus, this is the world's best golfer currently and he's pretty good at the game."
Nevertheless, a strong opening in the desert for McIlroy would be a huge bonus for the player who won five times last year, including his second major at the US PGA.
But regardless of what happens in Abu Dhabi he still has plenty of practice time before resuming his season in America next month.
When he plays at the WGC Match Play in Arizona in mid-February and in the following events that build up to the Masters we will be able to judge properly the full effect of this move.