Ryder Cup: Colin Montgomerie backs Paul McGinley as captain
Last updated on .From the section Golf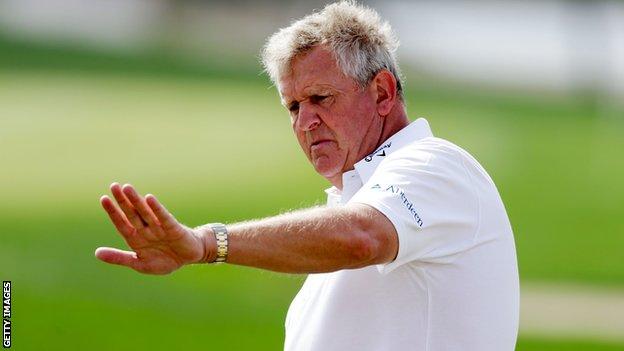 Colin Montgomerie is offering his support to new Ryder Cup captain Paul McGinley after missing out on the post.
McGinley was picked to skipper the team at Gleneagles in 2014 at Tuesday's European Tour tournament committee meeting in Abu Dhabi.
Montgomerie, who led Europe to a 14.5-13.5 victory in Wales three years ago, was a late contender for the job.
He said: "We will all get behind Paul now and wish him well. I'm not at all disappointed."
The appointment of the experienced Tom Watson as USA captain for 2014 raised suggestions that Europe should name a similar heavyweight character to take charge of their team with Scot Montgomerie a leading candidate.
He was interested in taking on the role again because the Ryder Cup is being held in his homeland - and he led the side to victory in the 2010 event.
But there was support for McGinley from players like Rory McIlroy in the days leading up to the appointment.
"It would have been a dream come true, but it has not happened," said Montgomerie.
"I was very flattered even to be considered again - it meant a lot to me.
"The selection process was such that they appointed the best man for the job."
McGinley was captain of the GB and Ireland team when they beat Continental Europe in the Seve Trophy in 2009 and 2011.
Montgomerie added: "I appointed him for the Seve Trophy and he did a very good job - as he did twice as a vice-captain [in the Ryder Cup].
"He's a very good man-manager and very good at assessing people's strengths.
"I will be there to support and fly the flag for Europe."
McGinley told BBC Radio 5 live Montgomerie was "gracious" when the pair met after the decision had been made.
He said: "He was the first man I saw and he came up and congratulated me warmly and wished me the very best of luck.
"He was very gracious to me.
"Monty has been a great captain and a great stalwart of Ryder Cups.
"I've played in three Ryder Cups with Monty and everybody knows what it means to him and how he has carried the Ryder Cup.
"On three occasions he was monumental in that team room, not just the way he played on the course, but how he spoke at the meetings.
"He should be very proud of everything that he has done with the Ryder Cup."