Ryder Cup: Rory McIlroy pleased with Paul McGinley as captain
Last updated on .From the section Golf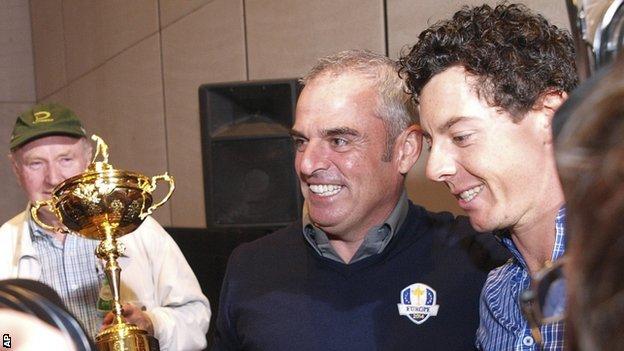 Rory McIlroy has applauded Paul McGinley's appointment as Europe's captain for the 2014 Ryder Cup.
"He is the best captain I have ever played under. I think he is the right choice," said the world number one.
Former Ryder Cup vice-captain McGinley has also led GB & Ireland to wins over Continental Europe in the Seve Trophy.
The 46-year-old Dubliner, the first Irishman to be made a Ryder Cup captain, will lead Europe against Tom Watson's United States at Gleneagles.
McIlroy had been a strong advocate for McGinley in the run-up to Tuesday's announcement in Abu Dhabi.
"I said earlier in the week I felt the Ryder Cup captaincy should be an honour and a one-time thing. I still stand by that," added McIlroy.
"I am delighted that Paul is getting the captaincy for Gleneagles and it would be great to see Darren Clarke getting it for 2016. That is always what I hoped for.
"I played under Paul in the Seve Trophy [in 2009] and I had such a good time.
"It was my first experience in a team atmosphere as a professional and Paul made me so comfortable.
"I enjoyed playing under him the most - he makes you feel so good about yourself.
"He put me out number one. He builds you up and makes you feel confident."
And McIlroy said he felt it would have been wrong for the European team to change its recent policy on the captaincy based on the veteran Tom Watson being named US captain.
"When Tom Watson was named as captain of the United States team, I did not think the right thing to do was to react to that and go against what we have done in the past in terms of one-time captains," he said.