Jamie Donaldson wins shows Europeans match US PGA Tour

By Iain Carter
BBC golf correspondent
Last updated on .From the section Golf26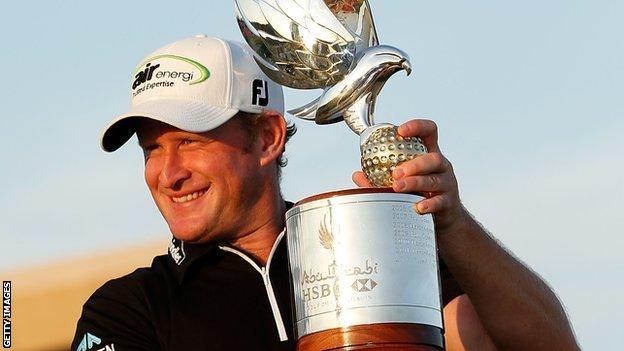 United States-based Swedish Ryder Cup player Robert Karlsson put out a thought-provoking tweet when he claimed the US PGA Tour boasted greater depth than its counterpart on this side of the Atlantic.
Karlsson is probably correct, especially when you consider the colossal sums in prize money generated on the PGA Tour. But it is worth putting his assertion into context, when you take into account victories like the one enjoyed
"The difference between ET (European Tour) and PGA Tour is the depth of the PGA Tour is better!! It is just more bunched up," Karlsson asserted on Twitter.
Well, let's remember the best in the world showed up in the desert for what has to be regarded as the global kick-off to the golf season. And, for the second year running, it was a European Tour stalwart who emerged with the spoils.
Never mind that Rory McIlroy struggled with his new equipment and Tiger Woods fell foul of an erroneous drop as both missed the halfway cut.
This was a seriously high-quality field and Donaldson succeeded his great mate Robert Rock in triumphing in this HSBC event.
The 37-year-old held off the PGA Tour-based Englishman Justin Rose and left US Ryder Cup star Jason Dufner, among others, trailing in his wake with a brilliant performance.
This was his second big win in six months. The Welshman beat another strong field to claim last year's Irish Open. He is finally realising his potential after jeopardising his career through practicing too hard in the early years.
Less than a decade ago Donaldson was worried about crossing the road, fearing a jarring pain that one doctor told him would the end of his career. "We soon went to see somebody else," he laughed.
"In 2004 I was scared of stepping off the curb just in case my back was going to go. Yeah, that was the lowest point.
"I just spent a year in the gym and working on core stability exercises which enabled me just to manage it. Now I play every week, sometimes under medication.
"I have physio every day, but I feel like there is no problem, certainly in the last four or five years. I don't practice as much as I used to. I don't do anything that might aggravate the problem."
This is a player who has managed a potentially career-threatening problem and battled back from losing his card six years ago.
"I played the Challenge Tour in 2007 and from that point it has been a rebuilding process," Donaldson said. "Just finding things that that work to put in the whole package to help keep getting better every year. The golf just keeps getting better."
As well as Rose, Donaldson held off the highly promising Dane Thorbjorn Olesen, who threatens to be the next big thing in European golf.
His emergence, along with performances such as Donaldson's show that the continent and its Tour is continuing to prove a potent production line of talent.
Karlsson in later tweets contended: "The best on the PGA Tour or European Tour are very close.
"The PGA Tour is just more the same and deeper, but as long as Europe keep winning the Ryder Cup I am happy!"
Could that be the case because so many top Europeans, attracted by bigger prize funds and easier travel, choose to ply their trade primarily in America these days?
That is how the PGA Tour gains its relative strength in depth but, as Donaldson and Olesen, have so recently proved, European events are brimful of highly talented golfers.
The champion in Abu Dhabi is now talking about using the privileges his win provides to play more tournaments in the US. "I'm looking forward to playing all of the events in America I get to play this year," he said.
"And looking forward to opening new doors and playing new events on new courses."
It is an inevitable thought process, but if Donaldson remembers the path he took to cross the Atlantic he should not feel intimidated by the strength of competition he might face there.