Major champion Karen Stupples loses her sponsorship deal

By Iain Carter
BBC golf correspondent
Last updated on .From the section Golf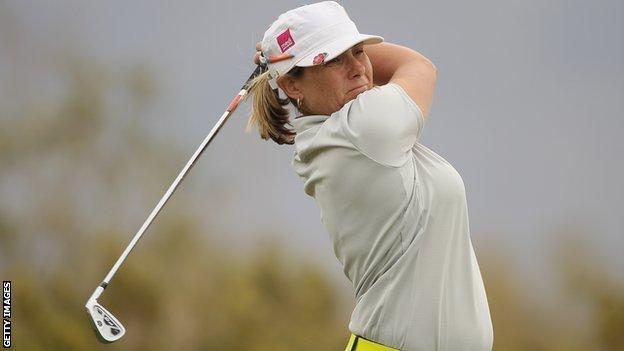 Major champion Karen Stupples' preparations for the new LPGA season have been hit by the collapse of her current club deal.
The Englishwoman discovered her agreement with manufacturer Wilson would not be renewed just three weeks before competing in her first event of 2013.
Stupples, who has used their clubs for the last two seasons, said she was told by Wilson they are moving their business away from the women's game and no longer want to back her.
She tweeted: "Just got word from @WilsonGolf that they no longer want to market to women...so they are done with me."
Her plight is in stark contrast to Rory McIlroy, the number one player in the men's game, who has just signed a reported $125m five-year deal with Nike.
"I don't have a problem with them changing their strategy," the 2004 British Open champion told BBC Sport. "What I don't like is that they have left it so late.
"It gives me very little chance to try out other equipment or to go to other companies because at this stage of the game everybody is set. They've spent all the dollars that they have.
"If I go looking for a deal now, they'll just say the budget has already been spent."
The decision means Stupples faces a hectic run up to the LPGA season sorting out not only which clubs to play, but also clothing that she had expected to bear Wilson branding.
The 39-year-old heads to the Australian Open from her Florida base on 7 February. "I can play with the clubs I already have no problem, but now I find myself viewing them slightly differently," Stupples admitted.
"You are playing equipment from a company that I feel no longer wants to support me.
"I'll put a few feelers out to see who might want to help me and, if I play particularly well with another brand of clubs, then I'll obviously switch to those."
Stupples, who won $117,000 on tour last year, is viewing 2013 as a huge season. "I've never put so much hard work into my preparations," she said.
"I know at my age it is now or never and I want to give this year absolutely 100% to see what I can achieve. So long as I do that I will be happy."
Wilson declined to comment when contacted by BBC Sport.