Lee Westwood faces the most important season of his golf career

By Iain Carter
BBC golf correspondent
Last updated on .From the section Golf60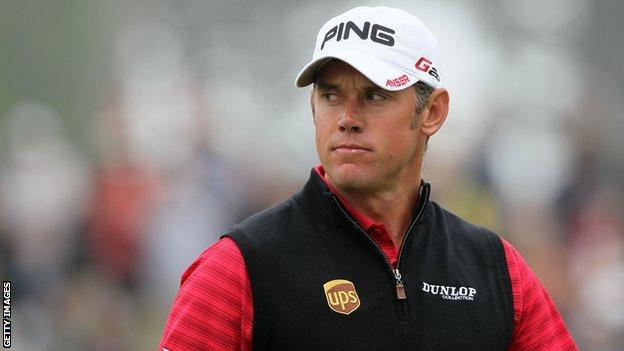 Lee Westwood embarks on the most important season of his career when he tees off at the Dubai Desert Classic this week.
There are few players who have done more than the 39-year-old Englishman to seek the key to landing the grandest prizes in golf.
Now, though, he has made his biggest move - in every sense - in his quest to cure arguably the greatest anomaly in golf.
Back in October 2010, Westwood was the man who broke Tiger Woods's five-and-a-half-year reign as world number one. He spent 22 weeks at the top of the golfing world, yet an otherwise glorious career does not boast any of the game's top 10 titles.
Westwood has been a prolific winner. He has 39 victories worldwide but none have come in the four majors, four World Golf Championships or in the flagship Players' Championship or BMW PGA at Wentworth.
These are glaring omissions from an otherwise stellar CV and Westwood knows it. Now he is going down the American route to try to find the winning touch in the most significant tournaments.
He has uprooted his family from their familiar Worksop base and Christmas has been spent settling into a new home in West Palm Beach.
When he speaks publicly for the first time in 2013 this week in Dubai you can guarantee some self-satisfied cracks about avoiding the British snow.
The underlying message, though, will be serious. With the Florida sun on his back and perfect practice facilities Westwood will feel he has never had better preparation for a season.
Effectively this move has put the Ryder Cup star on a similar footing to Ian Poulter, Graeme McDowell and Justin Rose, but Westwood lags way behind given how long it has taken him to shift stateside.
Has he made the move too late? Given his exceptional fitness there is every reason to believe this transatlantic flit can yield significant benefits for a player still firmly ensconced in the world's top 10.
In the last two years he has won six tournaments and his form of 2012 was perfectly respectable. But it was also symptomatic of Westwood's career.
Last year's victories came at the Nordea Masters and the Indonesian Masters. He needs to start winning at places where the only word ahead of Masters is THE.
He blew the chance to break his WGC duck in China last Autumn when he followed up a third-round 61 with a 72, the joint-highest final round of any of the top 27 finishers.
There was a ruinous thinned pitch during that final round and there remains little sign that he has found a way to improve his short game.
This is his biggest concern. Tony Johnstone came and went as his latest chipping advisor towards the end of last year and joined a queue of ex gurus who could not impart a way to cure Westwood's biggest weakness.
Compared with his rivals Westwood simply does not have a reliable enough chipping game. Getting the ball up and down always seems stressful, never routine.
It is testament to his imperious driving and approach play that he has been so successful.
Maybe the plush short-game complexes of his new home have helped him find a way to chip more efficiently. It is surely something that will have to come from within rather than be coached.
Equally, Westwood must not become as hooked up about this weakness as his critics are. After all, they say you have to chip well to prosper at the Masters and he has been runner-up and third twice in his last four visits to Augusta.
Inevitably. the Englishman's thoughts now are on making sure he is in peak condition for his annual drive down Magnolia Lane. His new American base is likely to help but he also knows the Masters will be his last major before turning 40.
The prime of Westwood's career has been peppered with high finishes, emphatic Tour wins - particularly in lesser tournaments in Asia - and near misses when the trophies that really matter have been at stake.
It feels like now or never for a man too talented to be remembered as a nearly man, and this pivotal season starts this week on the Emirates Course.
It was the scene of another that got away 12 months ago when he finished second to Spain's Rafael Cabrero Bello.
What better way to exorcise the ghosts of seasons past than to make a winning start and join fellow Britons Scott Jamieson, Jamie Donaldson and Chris Wood in becoming an early season winner?
More important, though, is to set a platform for triumphs in the events that define careers. He has been waiting and striving for one of those for far too long.