Vijay Singh 'Deer Antler Spray use' claims to be investigated

By Iain Carter
BBC golf correspondent
Last updated on .From the section Golf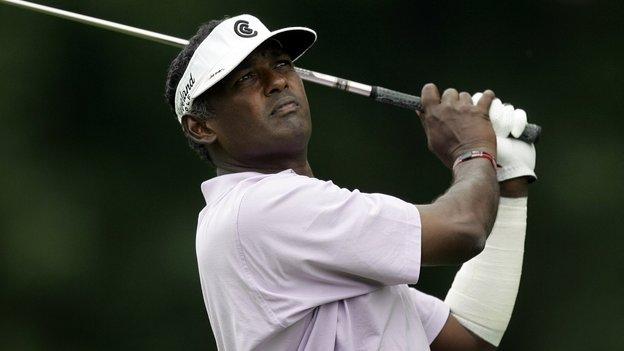 PGA Tour officials are to investigate claims that former world number one Vijay Singh used a banned supplement.
It is manufactured by the controversial company Sports with Alternatives to Steroids (SWATS).
In promotional material, the firm claims the substance contains IGF-1, a natural, anabolic hormone that stimulates muscle growth.
The SI report says Singh ordered quantities of the spray last November and quotes the three-time major champion claiming he takes it: "Every couple of hours, every day."
"I'm looking forward to some change in my body," Singh is quoted as saying. "It's really hard to feel the difference if you're only doing it for a couple of months."
Following publication of the story, the 49-year-old Florida-based Fijian said in a statement: "While I have used deer antler spray, at no time was I aware that it may contain a substance that is banned under the PGA Tour anti-doping policy.
"In fact, when I first received the product, I reviewed the list of ingredients and did not see any prohibited substances.
"I am absolutely shocked that deer antler spray may contain a banned substance and am angry that I have put myself in this position.
"I have been in contact with the PGA Tour and am co-operating fully with their review of this matter. I will not be commenting further at this time."
Singh is due to compete in the Tour event in Phoenix which starts on Thursday.
Speaking before Singh's statement, PGA Tour senior vice president of communications Ty Votaw said: "We have just been made aware of the report but we haven't had a chance to review it."
The substance is on the banned list and in 2011 former Open Champion Mark Calcavecchia ended his promotional link with the product after being warned by the Tour.
Singh has won the PGA Championship on two occasions, in 1998 and 2004, and also won the Masters in 2000.