Getting equipment right is crucial, says Stephen Gallacher

By Stephen Gallacher
Scottish golfer speaks to BBC Scotland
Last updated on .From the section Golf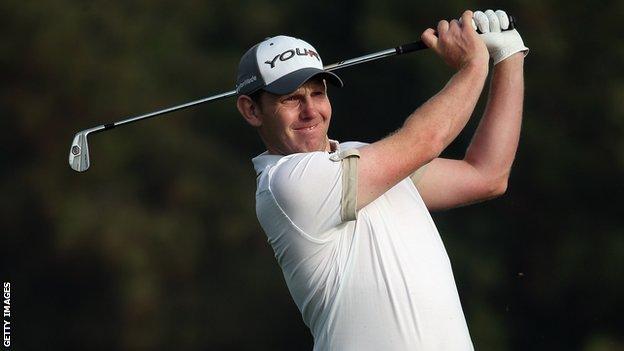 It was good today. I hit it lovely.
I had one of those strange rounds where I holed a seven-iron and I three-putted from four foot and everything just happened today. It was a bizarre round.
It's good to start the tournament that way and just hopefully build on it from now on.
The course seems to suit my eye: it's in perfect condition, it's immaculate. The greens are great, it's a nice lay-out. There's some risk in the ward-holes. If you drive it on the fairways, you've got chances.
And I think the wind getting up maybe suits the Scots a wee bit.
Winning in Dubai would be brilliant and reaching The Masters. The only major I've not played in so I would love that.
Drivers have got shelf-lives now because they're so on the limit of being legal, especially if you're hitting it hard. The face is thin and they just hairline fracture. I've spent a week-and-a-half trying to get this driver right, to be compatible with my swing.
It's got 168 options to change. It takes a lot of mucking about with the trackman and you need the engineer next to you until you get the optimum ball flight and speed. There's quite a lot into it now, it's getting more like Formula 1 cars.
If you're buying anything new now, you've got to get it fitted and get it suiting your swing or it's pot luck. There's probably about 85 per cent of guys using the wrong equipment and it's hindering their game.
You've got a lot of flexibility now. Having the flexibility is massive. It's all about getting the increments right for my game. All you're doing is altering the clubs for the conditions that week.
The thing that's made a big difference in the recent times has been the rescue club. You hit it in the rough and it's either a nine iron or a rescue. You either chop your nine iron 100 yards or you get the rescue and you hit it and it comes out running and you can get 200 yards out of it.
I think those clubs have been revolutionary. So many guys now hardly carry a three or a four iron.
I don't think it will take Rory McIlroy long at all to get used to his new equipment. I think he just had a bad week in Abu Dhabi. It was set up really tough with a big spotlight on him. I quite fancy him for the Masters to be honest. I think it's a course that's tailor-made for him.