Ryder Cup 2014: Sandy Lyle still dreaming of captaincy
Last updated on .From the section Golf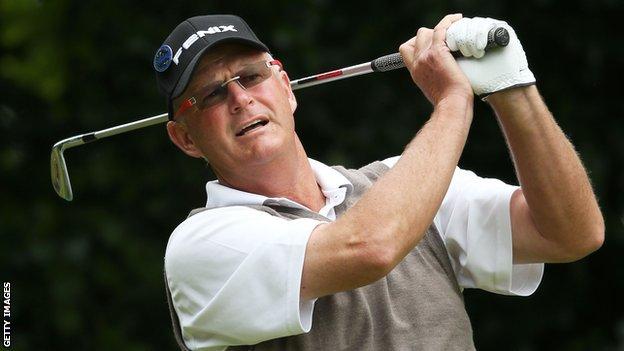 Former US Masters and Open champion Sandy Lyle has not given up on one day captaining Europe's Ryder Cup team.
The 54-year-old feels once more in the frame after discovering he was considered to lead the team in 2014.
Players' Committee chairman Thomas Bjorn phoned Lyle to tell him he was one of five candidates discussed before Paul McGinley was selected.
"At least I'm still being considered because two years ago I thought I was regarded as too old," said Lyle.
"They never told me I was under consideration for the captaincy," said the 1985 Open winner.
"It was only when I got a phone call from Thomas the very night they made their decision that I knew.
"They seem to have deleted the unwritten rule that says when you reach 50 it is the end of your Ryder Cup chances."
And Lyle believes that the selection of veteran Tom Watson as United States captain means that age is no longer viewed as a barrier to the role.
"We live in hope and I shall keep my ears and eyes open from now on. Tom Watson being chosen to lead the US has opened the door for us oldies," he said.
"Tom will be 65 in 2014. Maybe I could be considered now for a Ryder Cup in the States, especially with my experience of playing over there,"
However, the Scot, who won the US Masters in 1988, will not be actively lobbying for the role.
"I'm not going to campaign for it," said Lyle.
"If they want me it'll be most welcome but I'm not going to cry about it or lose any sleep if they don't."
But the five-time Ryder Cup player admitted McGinley faced an awkward challenge because of Watson's popularity in Scotland, where he won four of his eight major championships.
"Tom is almost an icon in Scotland," explained Lyle. "He is well-liked there and it's going to be awkward for McGinley because he has got a lot to live up to.
"It'll test him to his limits. When you mention Tom Watson he gets a lot of respect... he's like a Lee Trevino or a Jack Nicklaus.
"When it comes to the war of words and the way the speeches go, that's an important thing.
"McGinley needs to get the crowd to rise to the occasion and get the players going," added Lyle.
However, Lyle is convinced that McGinley's experience at captaining team events was a positive factor.
"But McGinley has a lot of experience of team events having played in the Ryder Cup and been a Seve Trophy captain and Ryder Cup vice-captain," he said.
"He's a good choice and he'll do a good job."