Lydia Ko: Teenager is golf's most exciting young talent

By Iain Carter
BBC golf correspondent
Last updated on .From the section Golf23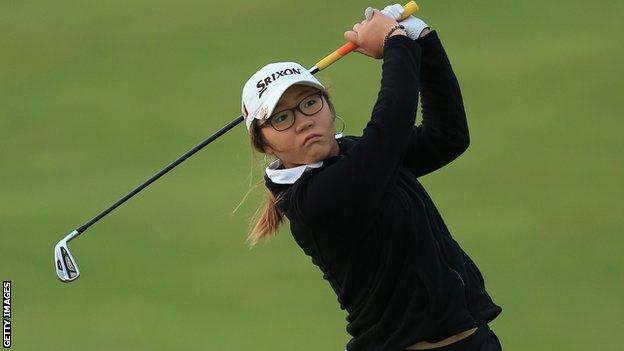 There can be little doubt over who is golf's most exciting young talent. We have known about the extraordinary Lydia Ko for a while and now she can boast a hat-trick of professional victories before turning 16 years of age.
The third of those astonishing wins came last weekend when the Korea-born New Zealander claimed her home Open title at Clearwater Golf Club in Christchurch.
In the last 13 months, the 15-year-old has ripped apart the record books. In January 2012 she became the youngest player, male or female, to win a professional event with her victory at last year's New South Wales Open.
Then she was the youngest winner on the LPGA Tour when she triumphed at the Canadian Open. Now Ko has set the same record on the Ladies European Tour with her win at the New Zealand Open.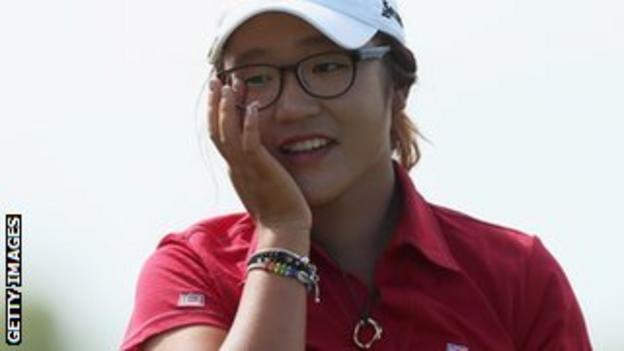 "There was a lot of pressure put on her by the media and the country for her to perform," Ko's coach Guy Wilson told BBC Sport. "All around the course it was branded with her photos and the catchphrase 'Ready Set Ko'.
"It was just huge for an amateur, a 15-year-old to feel that sort of pressure. She had big galleries following her from tee to green for the whole tournament and I think she felt sheer exhaustion when she was able to say finally it's over."
Ko shed tears of joy after holing the three-foot putt that secured the trophy that means the most in her fledgling career. "I didn't cry at the Canadian Open so I don't know why I cried here. I guess it meant more. It is our national open, so to win means a lot," she said.
"I am not the sort of person who shows expression or feeling but I guess the tears showed what this means to me."
Wilson is the director of golf at the Institute of Golf in Auckland and has been teaching Ko since she was brought along to his range at the age of six.
Within only half a dozen years she was playing in the tournament she has just won.
"When she made her debut at the New Zealand Open at the age of 12 it was her first professional event and made the cut and ended up finishing seventh," said her coach.
"Basically that's when I thought 'OK, we've got somebody here'."
Wilson admits it has not been a conventional childhood for his protege. He added: "Since Lydia was six that is all she has known. She has had to sacrifice a lot of other things in her life to get to where she is at.
"From the outside looking in, of course, there appears no way she has a normal upbringing. She doesn't spend time with her friends, she doesn't go to the mall, she doesn't celebrate Christmas holidays, she doesn't do any of that.
"Christmas to her is a day off golf because the course is closed. Is she a normal kid? No, not by any means," Wilson added.
But Ko's South Korean roots fit into a template that has created a production line of dedicated talent from the country that dominates the LPGA Tour. Wilson says she has a huge work ethic and desire to succeed.
LPGA age rules will restrict Ko to just eight appearances on the Tour this year and she plays the first of those this week at the Australian Open. She is also eligible for the majors thanks to her victory in the US Amateur.
Her continued success means delicate decisions on her career will have to be taken. "We may go down the road of petitioning the LPGA to say that we want to turn pro early or do we wait until she is 18?" Wilson said.
"She's got some big goals this year and I think if they go alright she may look to turn pro later this year."
Ko doesn't attend regular school and is educated by correspondence course. "She just catches up on it," Wilson admits. "Last year she basically crammed her whole year into two weeks of study and passed all her exams.
"Just like when she is on the golf course she can really get it sorted out and dedicate herself to whatever it is that's in front of her."
Ko will make her second appearance at the Women's British Open at St Andrews this summer and is sure to be one of the most talked about players in the field. It certainly feels as though she is on the launch pad to a glittering career.
SNEDEKER SEEKS FIRST MAJOR TITLE
At somewhat more advanced years, the likeable American Brandt Snedeker must be feeling similar emotions to Ko. He became the first player since 1990 to follow up consecutive runners-up finishes with victory when he won the Pebble Beach Pro-Am.
The 32-year-old is the hottest player on the PGA Tour at the moment. Since missing the cut at the PGA Championship last August he has fired sub par scores in 33 of his 37 rounds.
Snedeker will have to shoulder a significant burden of expectation in the build up to April's Masters as he seeks his first major title. He joins the likes of Luke Donald, Lee Westwood and Justin Rose in that regard.
Donald begins his 2013 season this week at the Riviera Club in Los Angeles, taking his place in a strong field that boasts 18 of the top 30 players in the world.