No overriding reason to ban putter anchoring - PGA Tour bosses

By Iain Carter
BBC golf correspondent
Last updated on .From the section Golf112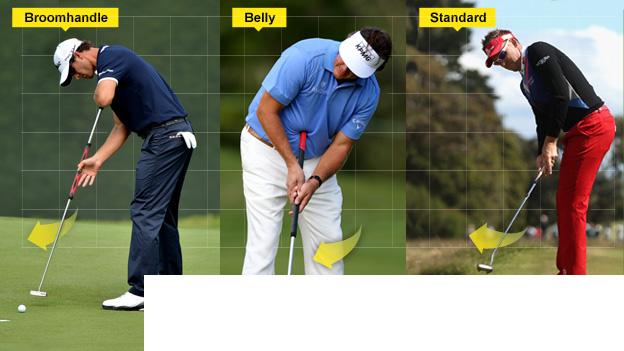 The PGA Tour says there is "no overriding reason" to back controversial proposals to ban putter anchoring.
"We have to look if anchoring is good, bad or indifferent for the game and we have concluded it's not been negative," said PGA Tour commissioner Tim Finchem.
But Finchem played down suggestions the decision could spark a breakaway.
England's Ryder Cup winner Ian Poulter recently told the BBC that he feared the issue could get "very messy" if the PGA Tour rejected the proposals.
A three-month consultation period to discuss the move, which would outlaw the anchoring method where a player hinges a putter to a fixed point on the body, ends on Thursday.
The PGA Tour, professional golf's biggest and most lucrative tour, has already written to the governing bodies to voice its opposition to the proposals unveiled in November last year.
Open champion Ernie Els and US Open winner Webb Simpson used belly putters to triumph last year. Keegan Bradley was the first player to implement the anchoring method to win a major when he claimed the 2011 US PGA.
"The thinking of the players and our board of directors, and others that looked at this, was the absence of data to conclude there is a competitive advantage to be gained by using anchoring," Finchem said.
"Given the amount of time that anchoring has been in the game, there was no overriding reason to go down that road.
"The USGA did, on multiple occasions, look at this and came to one conclusion - 25 or 30 years later they have come to another conclusion.
"They have asked us to give our comments. All we are doing at this point is saying 'this is our opinion'."
The PGA of America, which controls the Ryder Cup in the United States and represents the United States' club professionals, has already expressed opposition to the proposed rule changes.
It puts the two most influential US golfing organisations on a collision course with the game's rule makers.
"On this issue we think if they were to move forward, they would be making a mistake," Finchem said.
But the PGA Tour boss said his organisation did not want to defy the governing bodies and hoped the R&A and USGA would drop their proposals.
"We're in favour of the current rule-making system," he added.
"I think that the focus here ought to be, if possible, to go down the same road on anchoring. We just hope they take our view on it. We'll see."
The R&A have said it will be making no comment until the consultation period concludes on 28 February.