R&A says long putters' proposed ban well received outside USA
Last updated on .From the section Golf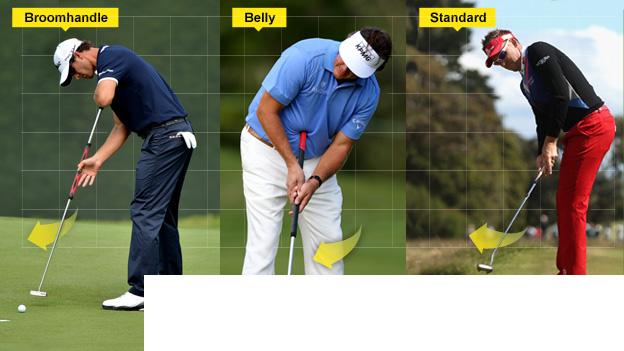 The R&A says its proposal to ban long putters has received a more favourable response outside the United States during a 90-day consultation period.
But PGA Tour commissioner Tim Finchem appears to be against such a proposal.
While noting the issue has proved "sensitive" in the United States, the R&A said the change has been received "more favourably" internationally.
After studying the findings, the organisation will now "take time to review and evaluate them", along with the USGA, before coming to a decision.
Players using long-handled putters anchor strokes to a pivot point, such as their chest or midriff, rather than the traditional approach of swinging the putter away from the hip.
Three of the past five majors have been won by those using longer putters, a style which has further been called "anchoring".
Last November, a ban was proposed to help preserve the "skill and challenge" of putting, with players and the golfing community given until 28 February to discuss the plan.
Long before that date, the PGA Tour - professional golf's biggest and most lucrative tour - had already written to the governing bodies to voice its opposition.
"Anchoring has been a polarising issue in our sport and despite having weighed the matter thoroughly before making the proposal, we believed it was important to give stakeholders in the game the opportunity to air their views," the R&A statement added.
"Our consultation period has generated a number of considered responses which have continued to arrive right up to the deadline."