Rory McIlroy withdrawal raises eyebrows and questions

By Iain Carter
BBC golf correspondent
Last updated on .From the section Golf95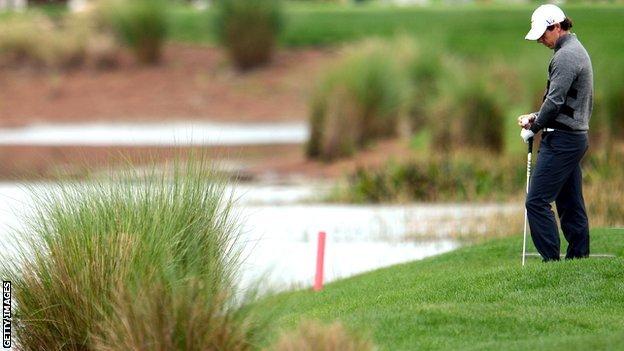 The bookies did not take long to react. Rory McIlroy's withdrawal eight holes into a miserable second round at PGA National rendered him a 3-1 shot to miss the halfway cut at next month's Masters.
This is despite his remaining 6-1 joint favourite with Tiger Woods to win the first major of the year.
The volatility of the world's best golfer is neatly summed up by those contradictory odds. When he is on form he is almost unstoppable - the 23-year-old has already romped away with two majors, each won by eight strokes - but when his game is off he struggles to make any kind of decent score. In the last two years he has missed six cuts and now has failed to go the distance in Florida.
McIlroy cites toothache for an inability to focus at the Florida course where he won so impressively last year. He was seven over par for the eight second round holes he completed.
His career constant is a capacity to make news. He is a walking headline machine. Not for McIlroy a quiet withdrawal thanks to a dodgy hamstring or sore wrist. Instead there was instant intrigue.
"There's not really much I can say, guys. I'm not in a good place mentally," is what he told reporters as he prepared to leave the tournament car park.
Moments later Bailey Mosier, a Golf Channel reporter, added to the sense of unease by quoting McIlroy's management team in a tweet: "Rory's agent: He's not hurt. He's not sick. And he won't answer his phone. I don't know."
Eyebrows were then inevitably raised when a statement was issued on the player's behalf citing toothache for his troubles.
McIlroy is the most honest and straight-talking of sporting superstars. Refreshingly he has always told it like it is. So when he says he has "been suffering with a sore wisdom tooth", he deserves to have it taken at face value, despite the mysterious comments that went before.
"It began bothering me again last night, so I relieved it with Advil. It was very painful again this morning, and I was simply unable to concentrate," McIlroy added in his statement.
He now has 14 days to provide written evidence to the PGA Tour supporting this version of events.
The timing of this latest setback, though, could hardly be worse. McIlroy needed to make a decent defence of his title at West Palm Beach to arrest the poor form he has shown with his new Nike clubs.
His £74m deal with the manufacturer looks to be weighing heavily at the moment. So far wielding his new blades has brought two 75s in Abu Dhabi, an exit at the first hurdle at the WGC Matchplay and a level-par 70 in the one round he completed at the Honda Classic.
Taking into account his Match Play performance, he is approximately 17 over par for the 80 holes he has played. It is not proving easy for him to "Just do it".
But the malaise seems much more about the player than the equipment he is using.
McIlroy can be prone to dramatic troughs in form. Last season, without a swoosh in sight, he suffered four missed cuts in five events including early departures from his US Open defence, the Players' Championship and the BMW PGA Championship at Wentworth. He struggled to a share of 60th place at the Open.
Then it all clicked - initially with his fifth place at the WGC event in Akron, Ohio and then his record-breaking win at Kiawah Island in the US PGA, the year's final major.
That victory heralded a spell in which he won twice in the Tour's play-off series before taking the DP World Tour title in Dubai in his last event with his old Titleist clubs.
A similar turnaround can happen again just as quickly. McIlroy has identified a kink in his swing - taking the club back too far on the outside and over compensating on the way back - and his coach Michael Bannon has found ways to put his pupil back on track throughout his career. There is no reason to doubt his ability to do it again.
That is not to underestimate the challenge the pair currently face. World number one status, the Nike deal and now this controversy mean the spotlight shines on the Northern Ireland star with uncomfortable intensity.
Assuming his troublesome teeth allow him to play, he is guaranteed four rounds at another Florida venue - next week's WGC event in Doral - because there is no cut. It could prove a pivotal week for his 2013 season.
Given how little decent golf he has played this year, McIlroy may be tempted to add Bay Hill to his schedule. Otherwise his only other competitive golf before the Masters will come in Houston a fortnight before the year's opening major.
The key is to keep this latest setback in perspective, and the player himself is more likely to achieve that than are most of his critics.
A price of only 6-1 to win the Masters and be three-quarters of the way to a career grand slam before his 24th birthday is not the most attractive punt.
But it still represents a better bet than the odds on offer for an early exit from Augusta.