European Tour backs anchored putter ban proposal
Last updated on .From the section Golf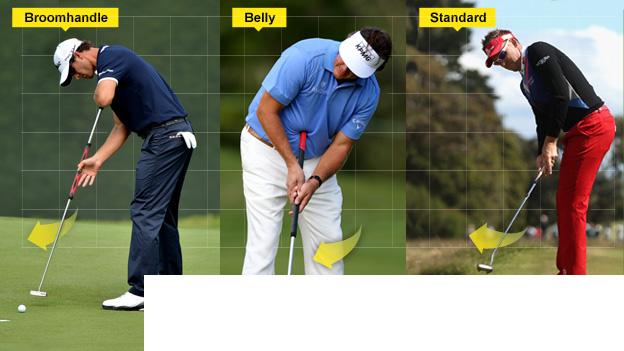 The European Tour has "confirmed its support" to back a proposed ban on anchored putters from 2016.
The PGA Tour and PGA of America are both against banning anchoring, which involves resting the end of a putter against the body to act as a hinge.
European Tour boss George O'Grady said: "We understand the points put forward by the PGA Tour and the PGA of America.
"The issue's received far greater focus in the US, maybe because of the number of their golfers using the method."
Golf's ruling bodies the R&A and the US Golf Association (USGA) want to limit the use of belly and broom-handle putters over concerns anchored strokes could replace traditional putting strokes.
Players and the golfing community were given until 28 February to discuss the plan during a 90-day consultation process. The R&A and USGA will now evaluate the response before coming to a decision.
A European Tour statement read: "The Tour has confirmed its support for the R&A and the USGA and their proposal for rule 14-1b - the prohibition of anchoring any club when making a stroke under the Rules of Golf."
Chief executive O'Grady added: "The European Tour has been fully involved in the consultation process, which ended on 28 February, and deeply value this involvement. Our members support the unique role played by the governing bodies in formulating the rules of golf.
"Additionally, virtually all of our tournament committee and player representatives support the proposed rule even though they are aware, and have taken into account, the fact that some members and especially our senior members use the anchored method."
He said the European Tour "respect and sympathise with the views of the PGA Tour and PGA of America, which are based on their experience and the evidence before them, and have been expressed with great concern for the game".
He added the greater focus in the United States could be partly down to "the set up in general terms of their golf courses and the firmness and speed of their greens".
The proposed rule change has also received support from the likes of world number one Rory McIlroy and 14-time major winner Tiger Woods but others, such as Open champion Ernie Els, who switched to a long putter in 2011, have voiced their opposition.