Why Tiger Woods's WGC win could spark successful season

By Iain Carter
BBC golf correspondent
Last updated on .From the section Golf199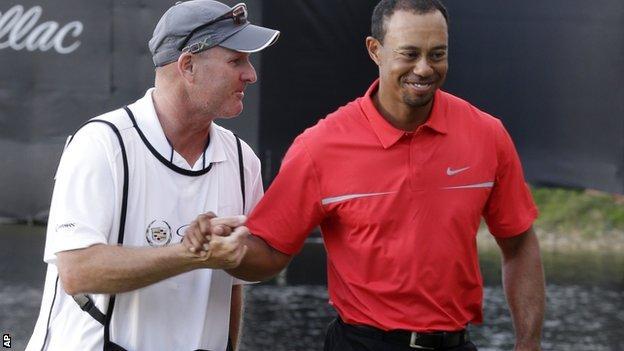 Tiger Woods has sounded his strongest warning yet that he is ready to win major titles again.
Although he won by only two strokes it was far more convincing than that margin suggests. Armed with a last-minute putting tip from Steve Stricker, Woods dominated at Doral from the moment he carded his first-round 66.
It was his fifth PGA Tour victory in the last 50 weeks and he is closing in on a return to the top of the world rankings.
But more significantly it was Woods's first WGC title since the 2009 scandal that cost him his spotless reputation and air of invincibility. This was the first time "Tiger Woods Mark II" had won at a gathering of all the world's best players.
"In this wind the last couple of days his ball-flight control was pretty stunning," said Graeme McDowell, who was paired with Woods over the last 36 holes in Miami.
"It's pretty cool to watch. I thought his short game and putting was very impressive. He cleaned up everything he had to clean up, pretty much. It was good stuff."
Golf is a notoriously difficult game to predict but history suggests this will be a stellar season for Woods.
He has won twice in 2013 at two of his favourite venues - Doral and Torrey Pines. It is the fourth time he has collected this early-season double and each time previously Woods has gone on to win big.
In 2005 he claimed six titles, including the Masters and the Open. The following year he won eight times with triumphs at the Open and PGA Championship and in 2007 he collected another PGA crown among seven victories.
"His attitude and what I saw this week and his belief in himself looks very similar to the early 2000s," Stricker commented. "Or you can pick any year when he was playing great, I guess.
"He just seems in a better place mentally to me. He seems to be having fun, to have a lot of confidence in himself and his game."
Stricker, a Ryder and Presidents Cup partner of Woods, suggested key setup changes in what amounted to a 45-minute putting lesson on the eve of the Doral tournament.
How ironic that Woods's closest competitor at the end of the tournament was the man who had saved him innumerable strokes with the generosity of his putting knowledge.
And how refreshing that it is still possible for rivals to be ready to help each other in such a way. It is a culture of which golf should be justly proud.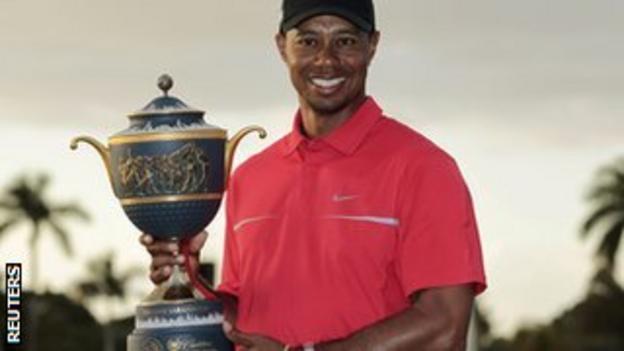 "It's fun to see him get that potential and that winning way again," added Stricker.
So are we now on the threshold of another Woods era?
Remarkably he has won 27% of the PGA Tour events he has entered in his entire career. But is this the season when he will break his major drought and start to close in on Jack Nicklaus' record of 18 Grand Slam titles?
It could very well be, but a couple of notes of caution. Woods has been winning and winning well on the PGA Tour for a while now but since 2009 he has looked inhibited at the majors.
There are plenty of reasons for that. His personal life, injuries and the emergence of new rivals not scarred by defeat at his hands have all been factors.
Tour wins have come on familiar territory, places like Torrey Pines, Bay Hill and Muirfield Village; courses that suit the Woods eye and where he has enjoyed success in the past.
His challenge is to translate his confidence at these venues to the major arenas. The cloak of invincibility has been absent from the moment YE Yang held him off at the 2009 PGA at Hazeltine.
Despite often achieving promising halfway positions in the biggest tournaments, Woods's form has frequently deserted him on the major weekends where he was once so dominant.
It is eight years since he won the fourth of his Masters green jackets and nearly five since he succeeded in a major of any description. Those were the days when he could win a US Open despite a broken leg.
Subsequently a lot more than that left limb has been damaged, but all the signs - especially his form and demeanour this year - suggest a pretty decent repair job has been done.
It can not be signed off though until he wins his 15th major and for that to happen twin burdens of expectation and self-doubt have to be defeated.
Speaking of repair jobs, Rory McIlroy - the one man above Woods in the rankings - appears to have ironed out the dents that knocked him off his game at the start of the season.
The 23-year-old's closing 65 at Doral and top-eight finish were evidence that he is ready to play competitive golf rather than a game of rediscovering his swing.
It is a big step in the right direction. Indeed, McIlroy and Woods are on the same road in that regard - all be it with the American in a more advanced position.
Perhaps we will soon have the dream scenario where both will be in the right place for their much-anticipated rivalry to start to flourish. Maybe that place will be Augusta next month.