Tiger Woods's return leaves Rory McIlroy playing catch-up

By Iain Carter
BBC golf correspondent
Last updated on .From the section Golf149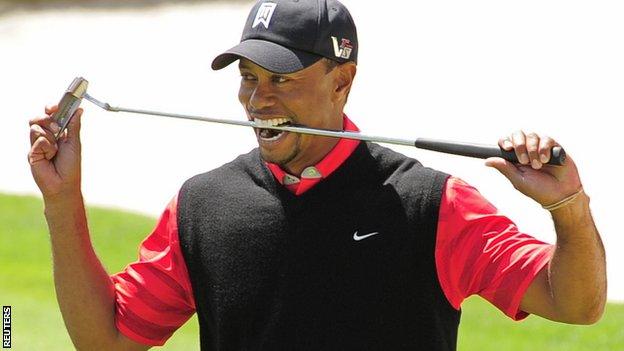 Two weeks until the first major of 2013 and the golfing landscape is much changed, with Tiger Woods overhauling Rory McIlroy at the top of the rankings.
While McIlroy's season to date has largely been stuck in reverse, Woods has been in overdrive. The new number one has recaptured the form and aura of old to eclipse the youngster from Northern Ireland.
When the season began it was all about McIlroy. The 23-year-old had rounded off 2012 with five birdies in a row to secure the European Tour's finale in Dubai.
The lucrative Nike deal was about to be signed and the two-time major champion was undoubtedly the hottest story in the game.
Since then, Woods has ruthlessly dispatched such a notion with three victories that have brought him back to golf's summit.
McIlroy, meanwhile, has been left to piece back together his game after a miserable start with his new equipment.
Even though a corner appears to have been turned with an excellent weekend that brought him a share of eighth place in his last outing at Doral, McIlroy is still far from bullish about his form.
Indeed, McIlroy admits it is something of a relief to no longer hold the number one tag: "I guess, at the minute yeah, with me trying to get my game back to where I think it can be.
"It's nice, not to just go about my business and no one cares, but to go about it and not be the most talked about person in golf."
There is no doubting who is dominating the conversation at the moment. Woods is not just on the tip of the tongue in golf but transcending through sport.
"Miami Heat [basketball] are on an unbelievable run at the moment, but all my office wants to discuss is Tiger," one leading American sports reporter told me here in Houston.
Even though he has not yet had a major in which to demonstrate it, we can be in little doubt that Woods is back to the intimidating heights of his pre-scandal career as he sets his sights on next month's Masters.
It was noticeable how relaxed and confident he appeared in his pre-tournament press conference ahead of his latest victory at Bay Hill.
Woods's three victories in 2013 have come at Torrey Pines, Doral and now Arnold Palmer's stamping ground in Orlando. All are venues where he has enjoyed huge success in the past.
They are courses that fit his eye but the way he has dominated those events has generated the aura of old. It will be a valuable tool to take to Augusta in two weeks.
McIlroy wouldn't be drawn when I suggested this to him, but acknowledged a sea change in his friend's game: "I think his consistency is definitely back and he's playing well week in, week out.
"When he was going through the first part of the swing changes with Sean [Foley - Woods's Canadian coach] some weeks he had it, some weeks he didn't.
"It seems like most weeks he comes out he's hitting the ball very solidly and anyone that's going to beat him is going to have to play very, very well."
McIlroy also takes solace from the fact that Woods has emerged from a relative trough to assume his current position at the top of the game. "We're not machines. We're humans. We go through highs and lows," said McIlroy.
"It's just sport and that's golf. You're going to have patches where you struggle a little bit. I guess you have just got to take the rough and the smooth.
"Play and be patient and know that you are working on the right things."
The reigning US PGA champion spent much of last week doing that on a Miami municipal range down the road from Kay Biscayne where girlfriend Caroline Wozniacki was competing in the Sony Open tennis tournament.
McIlroy hit balls largely undisturbed by the local hackers who surrounded him. He sees the humour in a joking suggestion that he was trying to boost his ego by practising in such humble circumstances.
And this week he finds himself in the town of Humble on the outskirts of Houston. Appropriately his modest ambition for this tournament - by the standards of his career to date - is to be merely in the mix come Sunday afternoon.
A win would be enough to take him back to the top of the rankings in time for the Masters. He wasn't aware of the fact until he was told so by the media.
More important than a win, though, are signs of continued improvement from his Doral finish. If that is achieved then he can head to Augusta confident, but slightly under the radar.
These would be ideal circumstances for McIlroy to do what he has always wanted, namely have a crack at taking on the great Tiger Woods at the top of his game.