Tiger Woods urges Rory McIlroy to win Houston Open
Last updated on .From the section Golf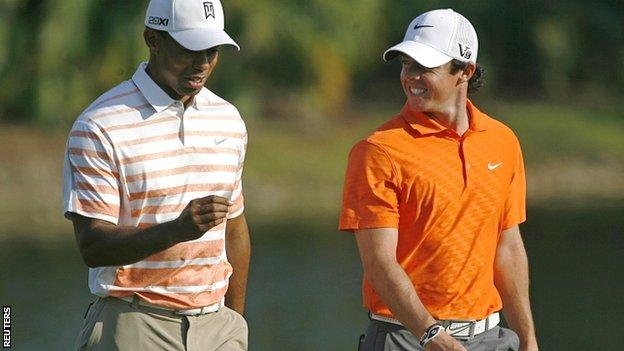 Tiger Woods has urged Rory McIlroy to claim his first win of the year, even though it would mean losing his number one ranking to the Northern Irishman.
It ended McIlroy's 32-week reign as number one and the 23-year-old sent Woods a congratulatory text message.
McIlroy, who plays in the Houston Open on Thursday, said Woods replied: "Get your finger out and win this week."
McIlroy first reached number one in March last year and won five events in 2012 - including his second major, the US PGA title - plus the money lists in both Europe and the United States.
He endured a difficult start to this year, however, after changing his club and ball manufacturers, missing the cut in his first event in Abu Dhabi and losing to Shane Lowry in the first round of the World Match Play in Arizona.
On 1 March, his defence of the Honda Open came to a controversial end when he walked off the course after eight holes of his second round, with a sore wisdom tooth cited as his reason for doing so, something he later apologised for.
But he returned to form with a 65 in his most recent competitive round at the World Golf Championship event at Doral on 10 March and said: "I felt like I saw a lot of good things there."
Asked about his Nike stablemate Woods, who won that event and has three titles to his name in 2013, McIlroy said: "He looks like he's playing really well and putting really, really well. He's back to the top of the world rankings and he seems like he's in a really good place on and off the course, so it's good to see.
"I really enjoy his company. He gives me a lot of grief and I try to give him some back but it's good. He's fun to be around.
"He's been the man in the golf world for the last 15 years. It's great for golf to have him playing well and hopefully I can just try to keep up with him."
McIlroy, who plans to visit a Unicef project in Haiti in the week before the season's first major at Augusta, said the focus on Woods might improve his chances of winning the Masters green jacket for the first time, having squandered a four-shot lead in 2011 and tied for 40th last year.
He said: "I didn't think I could go into the Masters under the radar but I can go in a little bit underneath him so in a way it's not a bad thing.
"The things I'm trying to work on are becoming a lot more comfortable, the way I've been hitting the ball recently I definitely feel like it's going in the right direction."