Paul Casey looks to European Tour in bid to get back to the top

By Iain Carter
BBC golf correspondent
Last updated on .From the section Golf80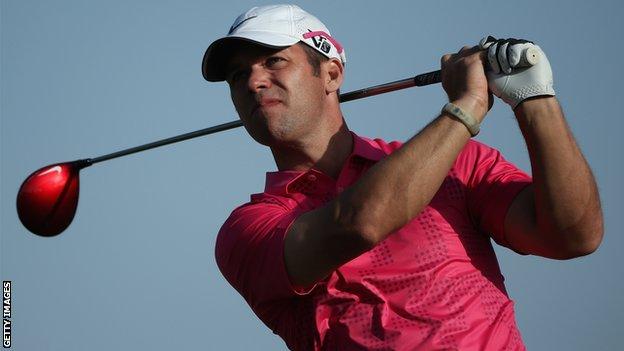 While Rory McIlroy, Lee Westwood, Luke Donald, Justin Rose, Graeme McDowell and Ian Poulter hone Masters preparations, consider a contemporary of this gilded generation.
Georgia next week is not on the mind of Paul Casey. His last chance of making it to Augusta came and went with a missed cut last week at the Houston Open.
Resurrecting a once stellar career is the 35-year-old Englishman's priority after struggling to overcome the dislocated shoulder he suffered at the end of 2011.
Casey is outside the world's top 130 players, yet he came to Texas exuding positivity and hoping to repeat his Houston Open triumph of 2009.
That win took him to the Masters of that year as one of the best players in the world. It helped him to a career-high ranking of three and a year later he was a contender in the Open Championship at St Andrews.
He was a top-10 player when Colin Montgomerie overlooked him for a place in the Ryder Cup team for Celtic Manor but the future still appeared bright.
In the weeks prior to his fateful snowboarding accident in January 2012, Casey had enjoyed two top-four finishes and he appeared on a path to levels of success similar to those enjoyed by Donald, Rose and Poulter.
The injury put paid to such a notion. It has been a constant struggle ever since. When he returned to action last year, he missed 13 cuts and lost his playing rights on the PGA Tour.
It is easy to assume that Houston victory, when he beat JB Holmes in a play-off, now feels a life time away, but Casey disagrees. "It seems like yesterday," he told BBC Sport.
"It's very strange - it's been four years and a lot has happened. My game has gone through a bit of a rough patch. Injuries certainly knocked the confidence.
"But I feel really happy about where I sit right now. I've figured a lot of stuff out. The past year or so has been very much a learning curve but I really enjoy my golf right now.
"The light bulb has really gone on about how I always played my best golf and I think I was very unaware of that. I think I was just freewheeling for such a long time - and going through this patch, I have had to learn and understand how I play golf."
For Casey, there has always been a constant battle between technique and feel. At his best, he can move the ball huge distances and shape it both ways at will.
He said: "I've gone through this period trying to figure it out scientifically and I've realised that's not me. That's not the way I do it. I'm someone who is more artistic, who goes out there and gets stuck in and just plays golf.
"I'm one of those players who can react to things, be creative and hit good golf shots. I've stood there for quite a while now trying to be correct, trying to set up correct, trying to make a perfect golf swing and getting results that are less than satisfactory.
"In the past few weeks, I've been saying: 'This is absolutely silly. What am I doing?' It's amazing how you can become so blinded and not realise that you are getting in your own way."
Casey admits the slump has been tough but he feels he has matured in adversity. He is not eligible for any of the majors at the moment. "It is the vehicle that drives the rest of my life, it is a job but it doesn't make me incomplete if I can't do it," he said.
"I still have a wonderful life and plenty of friends and family that I have a great time with and I've come to realise that. But it's not going to make me softer in any way. I'm still a hell of competitor."
He says those competitive fires burn "probably greater than they were when I was a young kid".
These qualities will need to come to the fore as he sets his sights on a European Tour schedule that offers the chance for him to be a bigger fish in a smaller pool.
Despite Casey's fall, he remains one of the game's most engaging characters and a player on whom promoters are happy to sell their tournaments. While Europe's star names ply their trade in America, he has a significant opportunity to capitalise in their absence.
"Having those guys based in the US and not playing full-time in Europe opens the door but there are lots of stars in Europe, lots of great young players," he said. "My focus isn't taking that spotlight. It is just winning golf events."
Only great play will suffice and to date it continues to elude a player who has played in three Ryder Cups.
This doesn't stop Casey setting himself high targets; he believes a return to the world's top 10 by the end of the year is within his compass.
Current results suggest otherwise but while he watches the Masters from afar he will feel that Augusta and not his home couch is where he belongs.
No player feels more motivation to succeed in 2013.