Masters 2013: What makes Augusta National so special?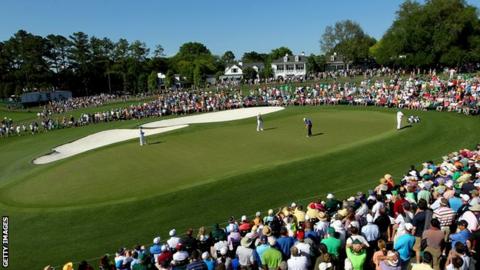 The Masters
Venue:

Augusta National, Georgia

Dates:

11-14 April

Live coverage:

BBC Two, HD & online from 18:30 BST on Saturday and 19:30 BST on Sunday; BBC Radio 5 live from 21:00 BST daily; Amen Corner online on Saturday and Sunday; Daily text commentary
Golfers, gardeners, dreamers, insomniacs. Three words to lighten your soul and add a distinctly green tinge to your world this week: the Masters, Augusta.
It's a phrase and a feeling as evocative as the smell of freshly cut grass. And at Augusta, that's a lot of grass.
The year's first major is back in this rather remarkable corner of a very unremarkable town in Georgia.
For a lucky few it's a stroll around one of the most dazzling backdrops in sport - myriad shades of green, explosions of colour, towering trees, the aroma of pine straw, a reverential murmur punctuated by roars. For most, it's TV escapism and maybe a late-night vigil, the confines of the cameras simply adding to the aura.
It's a springtime rite and a harbinger of heady summer days to come. Gardeners have daffodils. Golfers have Augusta. Make that Awe-gusta.
"It's just golfing heaven; there's not a blade of grass out of place," said Northern Ireland's 2010 US Open champion Graeme McDowell.
Not bad, then, for a former indigo plantation turned nursery that was used to graze turkeys and cattle during World War II.
The Augusta National, legendary US amateur Bobby Jones' immaculate conception, was laid out by Scotsman Alastair McKenzie in 1931, and has become one of the most iconic and revered sports grounds on the planet.
Not that you'd completely recognise the course for the first Masters in 1934, given the back nine was then the front nine. On the original plans, there was also a short 19th hole, dubbed "double or quits", in front of the clubhouse.
But since those early days the youngest of the year's four majors - and the only one that is held annually at the same venue - has seen history pile up in thick layers, like the mat of pine needles that fall from the majestic boughs year after year.
Great champions, deeds, miracle shots and meltdowns are swept into folklore. Fifty years ago, Jack Nicklaus won the first of his six Green Jackets. Twenty five years ago Scotland's Sandy Lyle became the first Briton to win the Masters with "that" bunker shot on 18.
Now, in its 77th edition, Tiger Woods is back at world number one and hot favourite to win a fifth Green Jacket. And Chinese prodigy Tianlang Guan, born a year after Woods won his first Masters in 1997, will become the youngest ever competitor, at 14. The Masters legend just keeps growing.
The club has its quirks, of course. The first black member was only invited to join in 1990 and it only admitted its first women- former US Secretary of State Condoleezza Rice and financier Darla Moore - last August. But the "rules" - such as insisting fans are called "patrons", no running, caddies in white boiler suits, players and caddies only inside the ropes - are what makes it the Masters.
Traditions and the genteel air are strictly maintained, but the club is cutting edge in other areas.
Old-school Southern splendour, with a modern agenda.
For the other 51 weeks of the year - and bearing in mind the National is closed from June to October - Georgia's second largest and second oldest city goes about its business as any town of 200,000 people would.
The "Garden City's" tourist blurb is full of the historic downtown on the banks of the Savannah river, old-style Antebellum (pre-civil war) mansions and "broad tree-lined streets perfect for a quiet afternoon stroll".
There are also at least 15 other golf courses, outdoor pursuits and sports galore, Augusta State University with its nationally-ranked basketball and golf teams, 12 hospitals, and Fort Gordon military base, the head of the US Army's signal core. All that, and the place where the Godfather of Soul James Brown grew up shining shoes.
"We are a golf town but we're not totally reliant on golf," said Mayor Deke Copenhaver, who as a kid worked several Masters in the shop or on the scoreboards.
"We're tremendously blessed to have the Masters every year. It pumps tens of millions of dollars into the local economy. It's like a second Christmas season.
"But we have a very diverse economy. We have a thriving arts community and a very strong business, medical and higher-learning community so we're a city that really shows off for that week of the year but also a city that has something going on every week of the year."
For many Masters fans, the only glimpse they get of the town is the rather more garish Washington Road outside the unassuming and easy-to-miss entrance to Magnolia Lane, the players and members route into the Augusta National.
It's a signature slice of Anywheresville, USA, a concrete strip lined with cheap diners, fast-food joints, bars hawking beer offers and live bands, motels, malls, parking lots, tyre and lube changers. During Masters week there is a Miss Green Jacket bikini contest and other assorted revelry. The neon signs poke into the Southern sky, competing for attention. Like sirens, they lure the pilgrims on their way to and from the holy land.
"Washington Road looks like a truck drivers' road, to be honest," said Ian Poulter, who like all the players rents a house for his entourage and takes his own chef.
"And then there are the gates of Augusta National. It's pretty incredible to see such a famous place in such a bizarre street but it kind of makes it even more fun. The fun spills up Washington Road and the whole town is hopping from Sunday to Sunday."
Inside, of course, it's a different world. Pristine, sedate, stunning. The ambiance is more suited to sipping mint juleps than swilling beer, though plenty do.
"There's nothing quite like it when you pull in the gates of Magnolia Lane," said McDowell. "There's not that many golf courses in the world that give you goose bumps when you step on the first tee.
"St Andrews and maybe Pebble Beach, but at Augusta you really feel like you're following in the footsteps of the iconic players in the game. Augusta gives you the feeling you're in the presence of greatness and it never gets old. I always get a special feeling when I go back."
But why is it so special? After all, Augusta Country Club (established in 1899) effectively occupies the same piece of land - the Country Club's ninth borders the National's 12th green and 13th tee.
"It's a combination of factors, the design, the lore, the fact it was Bobby Jones' course," said Mayor Copenhaver, who claims to have shot a score in the high 80s around the National.
"And there are the conditions there, with swirling winds and way they keep the course, that exists no place else. The same conditions don't exist on other courses even in Augusta which adds to the mystique.
"Plus, we're the only city in the world that hosts a major every year so the memories contribute so much to it. When you walk out there, even if the course is not full of people, you can still hear the roars of the crowds in your ears. You can't recreate all those special memories."
The Masters. Augusta. Three words. A thousand emotions. One winner.