Masters 2013: Tiger Woods gives Augusta lesson to Chinese teen
Last updated on .From the section Golf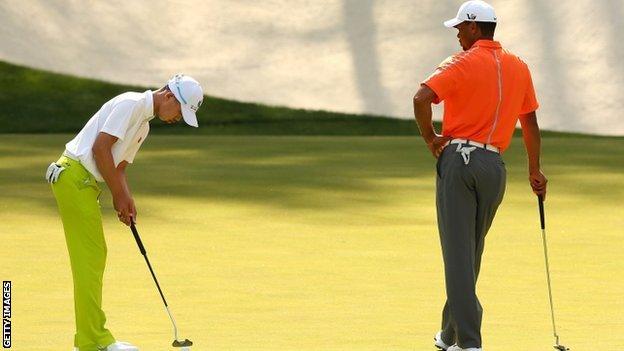 Chinese teenager Guan Tianlang has been getting lessons from Tiger Woods ahead of his historic US Masters appearance this week.
The 14-year-old will become the youngest player in Masters history when he tees off on Thursday.
He played with the world number one during a practice round at Augusta on Monday.
"Each time I play with him I feel a lot better and give myself some confidence and it's very good," Guan said.
"He told me a lot. We really enjoyed it on the golf course."
The pair met at the driving range on Monday after Guan's morning practice round with two-time Masters winner Ben Crenshaw, and Woods invited the talented teenager for a back-nine practice round at the course with Dustin Johnson, giving Guan the chance to play the famous Amen Corner with the 14-time major winner.
Guan had not been born when Woods won his first major title at the 1997 Masters, but the schoolboy from Guangzhou has been inspired by the American and has spent the past month in Augusta preparing for his historic debut.
"It's frightening to think that he was born after I won my first Masters," Woods said. "I mean, that's just frightening.
"It's exciting that I have inspired kids to play and not just here in the States but obviously in China and around the world. The game has become global. There are more countries represented on the PGA Tour than ever.
"It's only going to increase, and we're going to have a lot of players from countries that traditionally haven't been into golf that are going to start to play this game at a high level."
Guan secured his place at Augusta by winning last year's Asia-Pacific Amateur Championship in Thailand and he becomes the youngest player at the event since Italy's Matteo Manassero, who was 16 when he made his Masters debut in 2010.
He will play in Wednesday's traditional par-three event with three-time winner Nick Faldo and is relishing his opportunities at Augusta National.
"I'm really excited in the morning when I come out on the course and there's many people here and I'm really looking forward to the tournament," he said. "I'm not going to push myself too hard and I'm going to enjoy my game. Hopefully I can play well.
Veteran Crenshaw and world number eight Steve Stricker were both full of praise for the teenager.
"He's way more mature than 14," said Crenshaw. "I think we're all asking ourselves what the heck were we doing when we were 14. He's very accomplished and you could just tell that he lives and breathes it.
"He doesn't over exert himself, he's balanced."
Stricker added: "I knew he was playing, I knew he was young. I didn't think he was the same age as my daughter. I thought he was 16
"That's remarkable. I just can't imagine being that young and competing at this level at such an early age. It will be interesting to see how he does and how he handles it. It's remarkable that he's even playing."