Masters 2013: Dan Walker's 25 signs of Augusta addiction

By Dan Walker
BBC Sport presenter
Last updated on .From the section Golf5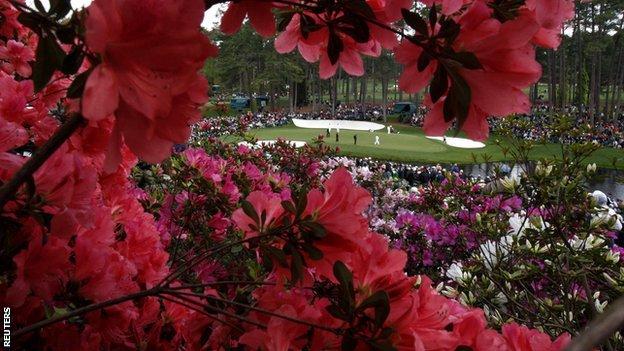 The 77th Masters tees off on Thursday. One man glued to his TV set, digital radio and BBC Sport mobile app will be Football Focus host Dan Walker. A big golf fan, he describes the 25 sure-fire signs that Augusta addiction has infected your system:
"There is something magical about the Masters.
The colours, the characters, the history. It's on TV at the perfect time in the UK and you always feel like spring has sprung when you see those unnaturally lush fairways and super-slick greens.
It can very easily become an obsession and you know you're in trouble when any of the following starts happening:
1. You make a practice swing in any available reflective surface.
2. You chip in the back garden and shout 'be the right club' or 'in the hole' even though you don't have a hole.
3. You genuinely believe you could easily two putt from the high side of the 16th green to a Sunday pin position.
4. You know KJ Choi's average driving distance.
5. As the lift door opens a colleague finds you holding your finishing position admiring an imaginary four-iron into the heart of the 11th green.

6. You practise a putt to win the Masters every morning and invariably hole it - the crowd always goes wild.
7. When you get dressed you imagine slipping on the Green Jacket even though you never have, or will, own a green jacket.
8. You carry around a club for the entire time the telly is on.
9. You throw around the phrase 'the Butler Cabin' as if you stayed there.
10. You take an unhealthy interest in azaleas.

11. You never tire of seeing Sandy Lyle's bunker-shot on 18 and admire him for not being bothered by his vast sweat-patches.
12. You start calling members of your family 'patrons'.
13. You wonder what your living room carpet measures on the stimpmeter.
14. You practise your victory celebration and occasionally fist-pump on one knee on your own in a room and well up at the emotion of it all.
15. You chip from the top of the stairs and genuinely think using the wall and cupboard to make the kitchen is more difficult than a shot from behind the 15th green.

16. You start to feel that ironed chino shorts, long white socks & ice-white trainers (as worn by 97% of the crowd) is acceptable attire.
17. You wish you were 12 again and lived in South Korea.
18. Anyone who calls between the hours of seven and midnight is instantly considered 'an idiot'. Even your mum.
19. You record Match Of The Day because you're convinced Gary Lineker is watching the golf during the show anyway.
20. You consider Duffy, Chip, Fuzzy, Hunter and Bubba acceptable names for your kids.

21. You think Ken Brown smelling leaves and rolling a beach volleyball down a slope is great TV. It is.
22. You permanently feel sorry for Greg Norman.
23. You wonder what food you'd choose for the champions dinner while tucking into your 17th bag of crisps.
24. You think it's normal to call all male children 'Jnr' or feel inserting a 'The Third' after your son's name would be a reasonable idea.
25. You carry a tee in your pocket for the duration of the tournament. Just in case.
Whether you admit to one, some or all of the above then I'm afraid you've been caught by the bug. But fear not brave golfing comrade, you are one of many and, after all, there is nothing quite like The Masters."