Masters 2013: Adam Scott fulfils potential with his first major victory
By Rob Hodgetts
BBC Sport at Augusta
Last updated on .From the section Golf
A slow-burner but what a finish.
In doing so, Scott avenged the cruel memories of last year's Open Championship at Royal Lytham, when he blew a four-shot lead with four holes to play to finish one behind Ernie Els. Now, the 32-year-old has finally fulfilled the promise heaped on his shoulders for most of the last decade.
The famous Augusta roars had been muted for much of a dank, drizzly day in part because of the weather, in part because the home challenge - led in the end by Tiger Woods - didn't really materialise.
Down among the pines on the back nine - the beating heart of the Masters on a Sunday afternoon - the roars for the international players just don't have the same thundering bass line of those for a charging Woods or Phil Mickelson.
But the tall, easy-going Scott gave the patrons huddling under their green and white Masters umbrellas, the global audience on TV and himself, a super-charged adrenaline shot when he drained a long putt across the 18th in regulation play to snatch a one-shot lead, pumping his fists and screaming "C'mon Aussie".
Only 2009 champion Cabrera could stop him, and the wily 43-year-old stood impassively with his eldest son, his caddie, back down the 18th fairway waiting for the pandemonium to subside.
The colourful Argentine, who rose from poverty to win two majors, conjured an impressive approach to a few feet and made his own stunning birdie to force a play-off. Now we were watching. Two pars up 18 took them back down the 10th. Both found the green in two. Cabrera missed, Scott holed.
"It's amazing it's my destiny to become the first Aussie to win. It's incredible," said Scott, who won the prestigious Players Championship in 2004 and was touted to go on and win a fistful of majors.
It could have been his countryman Jason Day, who birdied 13, 14 and 15 to lead by two holes before faltering to finish third.
But it was fitting it should be Scott, who grew up watching countryman Greg Norman's feats in the game and has been long mentored by the 'Shark'. Norman's is a name synonymous with the Masters - second three times at Augusta and each defeat more agonizing than the last.
In 1986, he was tied for the lead going up the last but made a bogey to hand Jack Nicklaus a remarkable sixth win at the age of 46; in 1987, he made a three-way play-off but was robbed when Larry Mize chipped in to win; worst of all he took a six-stroke lead into the final round in 1996 and lost by five to Nick Faldo. Australian golfers have won all the other majors, but they have yearned for a Green Jacket ever since.
Norman was so nervous watching he went to the gym at his home in Florida during the final round.
"Greg has inspired a nation of golfers," said Scott. "He was the best player in the world and he was an icon in Australia. He's given me so much time and inspiration and belief. Part of this is for him."
Scott was born in Adelaide but grew up in Queensland, and was coached by dad Phil, himself a pro golfer, until the age of 19. His career was on a slow, upward curve and he reached as high as third in the world in 2007. His name was mentioned whenever the majors came around, but struggles began to creep in, especially with his putting. His confidence spiralled downhill and he became burned out with the life of a touring pro.
Norman offered guidance and a captain's pick for the 2009 Presidents Cup, which flicked a switch inside the struggling Scott. Playing against some of the best players in the world in a pressure situation gave Scott the belief he belonged in that company.
"It was kind of gut check time," said Scott, who hugged his dad in delight on the Augusta's 10th green when the winning putt dropped. "My game was in a bit of a rut to be fair, and I wasn't enjoying it so much. But Greg as the captain had a lot of faith in me, and I didn't want to disappoint him. I used that as a real motivator."
In late 2010 Scott switched to a long putter, seemingly the final piece of the jigsaw. He was second to Charl Schwartzel at the 2011 Masters and looked destined to end his wait for a major title when he led after two of the first three rounds in the Open last year.
On the final day, he was untouchable for 14 holes, holding a seemingly impregnable four-shot lead on the 15th tee. But one bogey followed another and when he missed a putt for a play-off on the 18th he had let his dream, and the Claret Jug, slip from his grasp.
Scott was shell-shocked but handled the defeat with dignity. "I can't justify anything that I've done out there," he said.
But sporting his Green Jacket in an emotional Augusta press room, he said of Lytham: "It did give me more belief that I could win a major. It proved to me, in fact, that I could."
Norman said afterwards he believed Scott could go on and win the most majors of any Australian, beating Peter Thomson's five and the two won by himself and David Graham.
BBC TV's Australian commentator Wayne Grady, who won the US PGA in 1990, said: "'Under-achiever' is an unfair tag, but everyone thought that he would have won more by the age of 32. I would not be surprised if he starts contending at all of them.
"This is the shot in the arm that Australian golf needed. This will get people back on the golf course and start the kids playing again. It will be such a big thing down there."
Taking in his new membership of an exclusive green-jacketed club, Scott revealed it was his caddie Steve Williams who read the line of his winning putt; ironic, given that Williams was Woods's bagman for all those years before an acrimonious split.
Which brings us to Woods. Like it or not, the 2013 Masters will always be associated with "drop-gate" and the complicated, confusing, chaotic and contrived aftermath.
In brief, Woods was penalised two shots for an illegal drop on the 15th hole after his third shot to the par five in round two hit the flagstick and bounced into the pond in front of the green.
Woods, back at world number one, was in a share of the lead and the world of golf was on tenterhooks to see if he would clinch a 15th major title and first since 2008.
He dropped another ball roughly where he had just hit from and made a bogey six. Then the waters muddied. Masters officials initially cleared the drop after a TV viewer apparently pointed out a discrepancy.
When Woods suggested in an interview he had dropped somewhere other than exactly where he should have done they looked into it again, the next morning, and imposed a two-shot penalty. Historically, he would have been disqualified for signing for a wrong score, a six rather than an eight. But a liberal interpretation of a new rule allowed them to waive the disqualification. It was a mess all round and sparked outrage and resentment.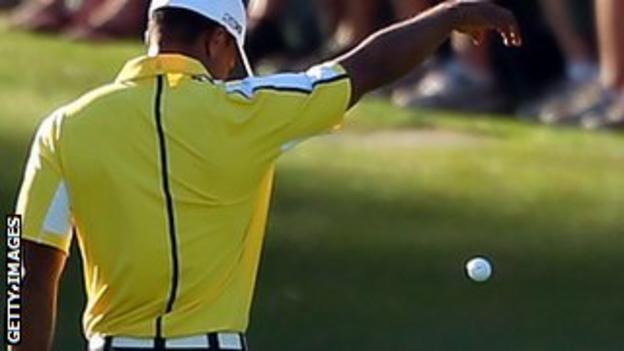 Conveniently, Woods finished four shots off the play-off so there's no "without the drop, he would have…" chat. But the incident - and a thin metal flagstick - turned the tide of the tournament. The clock ticks on his pursuit of Nicklaus.
The 77th Masters will also be remembered for the exploits of 14-year-old Chinese amateur Guan Tianlang. The schoolboy became the youngest player to make the cut in a major, finishing 58th out of 61 who made it to the weekend, just two places behind three-time champion Mickelson.
Guan has opened our eyes to the potential brewing in Chinese golf. How long before they dominate the men's game, like Asian players do on the women's circuit?
"The Kid", as he became known, was also inextricably linked to Woods. Guan was penalised one shot for slow play, and Masters officials were criticised in some quarters for rather draconian implementation of the laws.
"Rules are rules," Woods said at the time, before he became entangled in statute himself. But while Augusta chiefs took one step forward in trying to tackle slow play, the scourge of the modern game, they took two back with Woods.
Scott, too, will have one eye on the rulebook in the coming months. He became the fourth champion in the last six majors to use a putter "anchored" by his body and debate rages about whether they should be allowed. Governing bodies the R&A and USGA are in favour of a ban, the PGA Tour is not. Golf could be heading for civil war.
But that's for the future. Scott has finally broken through, the Aussie curse has been lifted at Augusta, Woods is probably almost back, and Nick Faldo is still the last Briton to win the Masters.