Masters 2013: Adam Scott win rids Australia of golfing hoodoo
By Nick Bryant
BBC News, Sydney
Last updated on .From the section Golf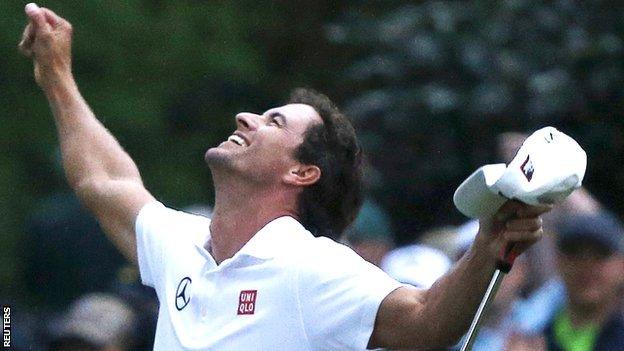 "Gold, gold, gold!" is traditionally the sporting cry in Australia when the country celebrates Olympic success - a legendary, and misquoted, line from a swimming commentary at the 1980 Moscow Games when the 4x100m men's medley team raced unexpectedly to victory.
Going into the final round, three Australian golfers were in with a chance of ending one of sport's most famous hoodoos.
On eight occasions during a 77-year drought, Australians have been runner-up at Augusta, which helped explain the overnight headline in The Australian newspaper: "Three Aussies share US Masters burden."
So there was mammoth relief as well as euphoric delight when at 9:37am on the Australian eastern seaboard Adam Scott sank a brilliant 12-foot putt to beat Argentine Angel Cabrera.
Within minutes came headlines that Australians had waited decades to see:
"Scott banishes Masters hoodoo," proclaimed The Australian, which crowned the 32-year-old Queenslander "an instant national hero".

"Scott breaks Australia's Masters drought,"

said ABC.

"A curse broken," wrote Richard Hinds of the

Sydney Morning Herald.

"Decades of heartbreak wiped away with the swipe of an elongated putter."
It is a triumph that joins the list of great sporting moments that includes Cathy Freeman's 400m win at the Sydney Olympics, Dawn Fraser's gold at Tokyo in 1964, Phar Lap's 1930 spring carnival, Don Bradman's 300 in a day against England the same year, Cadel Evans's 2011 Tour de France, and the 1983 America's Cup yachting success.
Much like British tennis fans have long feared they might never see a homegrown star lift the men's title at Wimbledon, Australian golf fans have suffered the same agony over the Masters.
Back in 1996, Greg Norman, the famed "Great White Shark", led at Augusta for the first three rounds, but let a six-shot lead slip on the final day. Worse still, Norman ended up losing to British golfer Nick Faldo. Over the course of his celebrated career, Norman was runner-up three times.
Small wonder, then, that on Sunday morning a commentator joked that it would take the sight of two Australians in a head-to-head play-off for fans to believe a long-awaited victory was finally on the cards.
So when the Aussie hopeful and one-time leader Jason Day dropped shots at the 16th and 17th hole it looked as if a bleak history might be about to repeat itself. By then, Marc Leishman's challenge had also faded. As for Scott, fans would no doubt have recalled the heartbreak of last year's Open when he bogeyed the last four holes to lose by one stroke to Ernie Els. Two years ago at Augusta, he also tied for second.
When Scott holed a brilliant downhill 20-foot putt on the 18th to take a one-shot lead, Australian fans would have been forgiven for thinking that the end of a 77-year wait was just a matter of minutes away. "Come on Aussie," yelled Scott, echoing the sporting anthem from World Series Cricket: "C'mon Aussie, C'mon."
Then Angel Cabrera hit a brilliant approach shot, which presented him with the birdie chance that levelled the scores. Perhaps they would be denied again? Indeed, on the second play-off hole, the Argentine came within millimetres of victory.
Then came Scott's 12-foot winning birdie - a shot that may not have been heard around the world, but which certainly reached this corner of the southern hemisphere.
Needless to say, Australian Twitter exploded. This being an election year, Australia's politicians were quick to offer applause. "Huge congratulations to Adam Scott," tweeted Prime Minister Julia Gillard "the first Australian ever to win the ‪#Masters."
"What a putt from Adam Scott at #TheMasters, the first Aussie to win at Augusta," wrote conservative opposition leader, Tony Abbott. "Congratulations. Australia is proud of you."
Australian golf has been in urgent need of another Great White Shark. The game peaked here in the late-1980s to mid-1990s when the two-time major winner was at the height of his powers. Since Norman's retirement, the game has never fully recovered. Until today, not since Geoff Olgivy's US Open win in 2006 had an Australian won a major.
Norman was quick to congratulate his fellow Aussie. "I have been a huge believer in Adam and am so proud of him, as is the rest of Australia. Adam is a great player and I'm confident this victory will catapult him to win more majors. It will not surprise me if he wins more major championships than any other Australian golfer in history.
"I was very proud of all of the Aussies today. It gave me so much pride to look up at the leaderboard and see three Aussie flags on there."
For years in Australia, the Baggy Green cap worn by Australian cricketers has been the most sacred piece of sporting fabric. Now, finally, it has a rival in Adam Scott's tailored green jacket.