Adam Scott triumphs in a Masters dominated by the rule-makers

By Iain Carter
BBC golf correspondent
Last updated on .From the section Golf221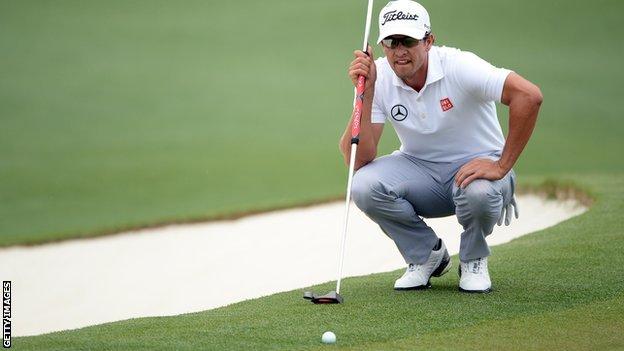 Adam Scott's thrilling and overdue graduation to major champion capped a Masters which was as compelling as it was thought-provoking.
It was a case of "Aussie Rules" in a week that will also be remembered for the way the regulations governing the game were implemented.
The standard of golf in the play-off between the Adelaide-born Scott and Angel Cabrera turned the 77th running of the famous tournament into one of the great Masters, despite a controversial backdrop.
Fittingly for the Masters, though, only the very best golf imaginable was sufficient to determine the destiny of the Green Jacket.
Cabrera didn't win, but he now deserves to be regarded as one of the best players of his generation. The 43-year-old Argentine came within a whisker of joining an exclusive club of three-time major winners.
Scott thoroughly deserves his place among the elite to have landed one of the titles that define golfing careers.
The 32-year-old has done his time, winning at every level below the majors and can thank sheer guts, determination and talent for this breakthrough victory.
It came in a tournament that was marked by incident and intrigue that will be discussed for years to come.
How could it be possible for a 14-year-old boy to make the cut on such a brute of a course? Guan Tianlang's achievement was supposed to be merely making it to Augusta.
Yet the Chinese youngster progressed to the weekend despite being penalised a stroke for slow play in his second round.
We should all be grateful for officials taking a hard line on an issue that so blights our game, but this decision smacked of double standards.
Without wishing to pick on Jason (takes all) Day, it is worth noting his pairing was out of position in both his Saturday and Sunday rounds. But there was no punishment for the Queenslander, who is not alone in the pro ranks for his snail-like tendencies.
Should Guan, an amateur, have been shown some leniency? Perhaps, because his crime was committed on a difficult, windy day that left room for some compassion.
The teenager broke the rules because he didn't have the guile of the top pro's in circumventing them. It is well known that leading players adopt different routines when they are put on the clock.
Applying the letter and spirit of the slow play regulations so rigidly to Guan also seems at odds with the lenient treatment of Tiger Woods for his rules infraction on the 15th hole of his second round.
Using rule 33-7 to waive the penalty of disqualification for signing for the wrong score has set a worrying precedent.
This sort of incident was not what the rule was designed for and its use smacked of a desperate ploy to keep the world number one in the tournament.
Many pundits called into question Woods's integrity for not taking the moral high ground and disqualifying himself. That feels unfair because the committee deemed a penalty of two strokes appropriate punishment.
Woods is entitled to believe the officials would have come to the same decision whoever was involved and therefore probably didn't need to do any more than accept extra strokes on his score.
But that does not remove the fact that the decision by the rules committee was flawed and paves the way for it to be wrongly applied in the future.
When it was brought in two years ago, rule 33-7 was not intended to help a player ignorant of a clear rules infraction. This was the case here.
It was introduced to save a player who could not have known he had broken the rules. An example would be a minor movement of a ball picked up by a high-definition or super-slow-motion television camera.
In these instances the offence can come to light after a player has left the recorder's hut, oblivious to the fact he has signed for the wrong score.
Thank goodness Woods didn't win. He should not have been competing at the weekend.
That the Green Jacket went to Australia for the first time is a source of great pride for golf fans down under and a welcome boost for a proud sporting nation.
It also completed a career grand slam for anchored putting techniques and will only serve to heighten the ongoing debate over whether a ban on this method should be brought in.
Scott was the first to win a major using a broom-handle putter; Keegan Bradley (2011 PGA Championship), Webb Simpson (2012 US Open) and Ernie Els (2012 Open) all used belly putters for their victories.
So, four of the last six major winners have used anchoring techniques and Guan represents a younger generation who are being schooled in its use. Unchecked, there could be an even greater explosion in the use of this form of putting.
The authorities believe this is golf without the use of the genuine, free-flowing swing intended for the game, but the PGA Tour and PGA of America see no reason for a ban.
The argument is set to rage further with the rule-making R&A and USGA bodies scheduled to announce later this spring whether they will ratify proposals due to be introduced in 2016.
Scott is living proof that this method - with appropriate practice - makes putting easier.
It helped turn him into a major winner, but there should be no asterisk next to this triumph. He played by the rules that currently stand. There is no argument there.
The Aussie's brilliant victory capped a stunning Masters that showed golf in its most exciting light.
But it was also an uncomfortable week where the sport suffered controversy and scrutiny over the application, spirit and writing of its own rules.