Tiger Woods: Cheyenne Woods emerging from uncle's shadow

By Jessica Creighton
BBC Sport
Last updated on .From the section Golf60
Being a golfer and sharing the surname Woods has its advantages: a high-profile sponsorship deal, representation from a well-established management company and numerous opportunities to raise your profile outside the sport.
Inevitably, it is a surname that can also bring less desirable consequences.
"Having the name of Woods brings a lot of attention to you," explains 22-year-old Cheyenne Woods, who bears an uncanny resemblance to her famous uncle Tiger.
Even as a rookie, she says: "There is expectation and pressure that comes with the territory of being Tiger Woods's niece. It's something I've grown up with."
With uncle Tiger back to winning ways and reclaiming the world number one spot for the first time in more than two years, the weight of expectation is heavier than ever.
But Cheyenne Woods, who is competing in her first season on the Ladies' European Tour, is determined to carve out a name for herself in her own right.
"When I come out here [on the golf course] I don't think about Tiger Woods or what my name is, I just think about achieving my own goals and playing my own game," she tells BBC Sport.
"I'm just trying to have a successful season, a solid career and not focus on what Tiger's doing and comparing my career to his," she adds.
Cheyenne was just 19 months old when her mother, Susan - married to Tiger's older half-brother Earl Dennison Jnr - pushed her around Riviera Country Club in a buggy while Tiger, then 16, made his PGA Tour debut.
Her enthusiasm for the sport was bolstered further by seeing Tiger playing golf on TV. Her brown eyes gleam as she remembers sitting in her living room as a six-year-old watching Tiger becoming the youngest winner of the Masters in 1997.
"It was definitely an inspiration to see him on TV being successful," recalls Woods. "I'd go into school every day and tell everyone my uncle was on TV. It was exciting for me to see that.
"He didn't have a lot of hands-on coaching with me as I had my own coach, but he was always there to look up and see on TV."
These days Woods says she speaks to her uncle "every once in a while", adding: "He'll keep up with how I'm doing or how I'm playing but we don't talk every day. He's there to give me advice when I need it."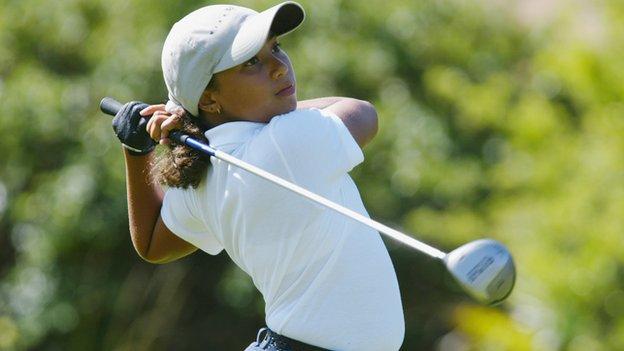 Woods's late grandfather Earl Dennison Woods Snr - Tiger's father - had a big influence on her career.
Just as he moulded the precocious talents of a teenage Tiger, Woods Snr first put a golf club in her hand when she was only two. He also bought her first set of clubs a few years later.
But with her grandfather and uncle Tiger living in California, and Woods more than 300 miles away in Phoenix, Arizona, she was only able to see him during the summer holidays.
It was enough time for Woods Snr to advise his granddaughter on how to improve the mechanics of her swing or how frequently to practise her putting and the events she should compete in as a junior.
But it was her mother who encouraged and nurtured her talent on a daily basis. "My earliest memory is going to the local park with my mum and hitting golf balls," says Woods, who cites South Korean pro Grace Park as her favourite women's golfer growing up.
"We'd go to the park rather than the driving range because at the time we didn't know that's where you would go to hit balls. We hit back and forth all day. It was really fun."
You get the sense from Woods that when she sets a goal she becomes hell bent on achieving it. She decided as a junior she wanted a career in a sport that, at the time, was not the most welcoming to women.
And then as an amateur she set about accomplishing it - racking up more than 30 amateur tournament wins before graduating from Wake Forest University in North Carolina with the lowest career-scoring average in their history.
Her only pro Tour victory to date came last August in 2012's LPGA (Ladies' Professional Golf Association) International in Florida. Woods's best finish in her five tournaments so far in 2013 was joint 12th at the Lalla Meryem Cup in Morocco.
Not a prolific opening to the season, but Woods is satisfied with her "great start" to her first professional year, as she negotiates competing and travelling the world alone for the first time. Apart from losing her passport ahead of a flight to New Zealand, Woods says she has had a "great experience".
Tiger's life off the course has been scrutinised in much detail in recent years, but Woods says there is no chance of her getting caught up in what she calls the "hoopla of celebrity life" as her family keep her "humble and grounded".
For Woods, it is about more than just golf. Just as her uncle transcended the sport by becoming a successful black golfer in a regimentally white sport, Woods understands her high profile will make her a role model for young girls and black golfers alike.
"There aren't a lot of minorities out here now in the pro leagues and Tours. I think it's important to grow the interest of golf in the minority community," she explains.
There is that look of determination again. It is a sight we are likely to see more of from a young rookie intent on emerging from the shadow of such a famous name.