Graeme McDowell wants IOC to decide his Olympic nationality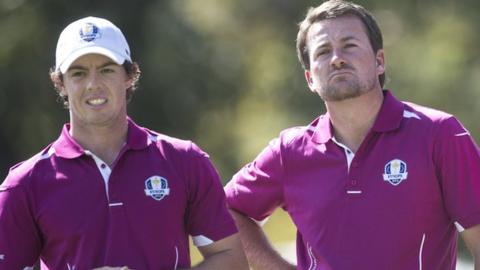 Graeme McDowell would like the decision on who he represents at the 2016 Olympics taken out of his hands.
World number two Rory McIlroy also faces the dilemma of whether to play for Great Britain or Ireland in Rio.
R&A chief executive Peter Dawson said an Olympic regulation may determine who they play for but it was confirmed that the pair still have the choice.
"I'm in the boat where I don't mind if the Olympic committee made that call for us," said McDowell.
Dawson said on Tuesday that where McIlroy can only represent Ireland in Rio because he has played for them in two World Cups.
But the International Olympic Committee cited a rule saying if three years have passed since he represented Ireland, the 23-year-old could play for Team GB.
Athletes born in Northern Ireland are eligible to represent Great Britain or Ireland at Olympic Games.
"It's a difficult decision that Rory and I are in - Northern Ireland is a very interesting part of the world politically," McDowell told BBC Radio 5 live.
"It puts us in a very enviable, or even unenviable, position of being able to choose which team we might represent in the Olympics.
"I've said in the past I would play for any of the two teams, anybody that would have me."
McIlroy said he "felt more British than Irish" in September but then denied that meant he automatically would represent Team GB.
He told the BBC in January that "if there was a Northern Irish team I'd play for Northern Ireland".
McDowell would rather leave the decision to an Olympic committee.
He added: "It's a huge scenario - Rory, being the player he is and the world number one for many weeks, he was certainly thrust into the spotlight and had his comments analysed over and over.
"If the Olympic committee come out and say that as we played for Ireland in the World Cup, we have to play for Ireland in the Olympics, then so be it.
"It's much easier for them to make that decision for us rather than players being dragged through the media and upsetting people by having to choose."