Greg Norman criticises golf chiefs for lack of blood testing
Last updated on .From the section Golf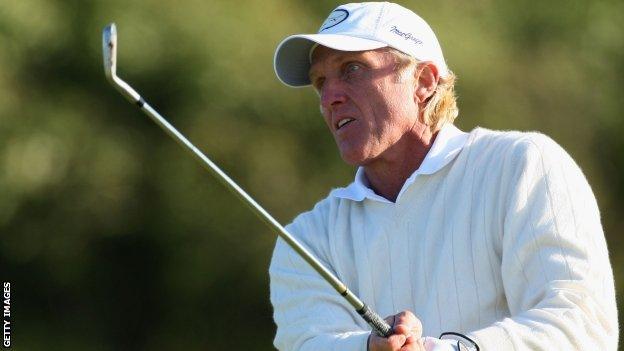 Greg Norman has described golf's anti-doping procedures as "disgraceful" and says he wants blood testing introduced by the sport's governing bodies.
"If you really want to be serious about it, we need to do blood testing," Norman told The Australian.
"I think it's disgraceful, to tell you the truth."
He added: "The golf associations have to get together and step it up. You only have to look at what happened to Vijay Singh just recently to know the drugs issue is there."
Norman said he had "no idea" how big a problem doping was in golf because "we only do urine analysis instead of blood testing".
Three-time major winner Singh, 50, told an American magazine in January that he had been taking deer-antler spray as a supplement, saying he was unaware it is believed to contain the hormone IGF-1, a banned substance.
The PGA Tour is still investigating the issue and is expected to reach a verdict in the next few weeks. Singh is free to continue playing.
Peter Dawson, chief executive of the R&A, one of golf's ruling bodies, said blood testing was "up for consideration".
"I can't speak from the Tours' position on this and week-in, week-out," he said. "Of course it's the Tours who are administering drug testing.
"As far as Olympic golf is concerned, when the players come under the International Golf Federation (IGF) policy, that will be a different story.
"We have a medical team working at the IGF now looking at golf's testing regime and coming up with recommendations for what's going to happen pre-Olympic games.
"So the issue of blood testing is up for consideration at the moment."