Tiger Woods: Golf's governing bodies back Augusta stance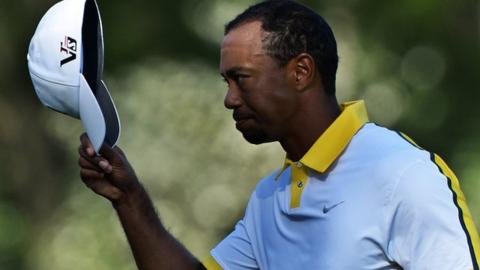 Golf's governing bodies say Masters officials were right not to disqualify Tiger Woods for his illegal drop at last month's event.
Woods's second-round drop at Augusta National's 15th was taken two yards from the original position.
This should have incurred a two-shot penalty and thus disqualification for signing an incorrect scorecard but the disqualification was waived.
Augusta officials were said to have "reasonably exercised discretion".
Woods ran up a bogey six on the par-five 15th after his ball hit the flagstick and bounced into the water, prompting a penalty drop from his original position.
He went on to sign for a 71 but a television viewer - Champions Tour player David Eger, according to Sports Illustrated - had alerted Masters officials to a possible breach of the rule 26-1a, which states the ball must be dropped "as close as possible" to its original position.
Augusta rules chiefs viewed footage and decided there was no case to answer, but when Woods said in a post-round interview that he had gone "two yards further back" from where he hit his original shot, they were forced to revisit the incident.
He was then handed a two-shot penalty for an illegal drop, which would then have meant he signed for the wrong score and would be disqualified, but officials invoked rule 33-7 to waive the disqualification as they had originally deemed the drop acceptable.
In a 1,867-word statement, the R&A and the United States Golf Association (USGA) said: "In deciding to waive the disqualification penalty, the committee recognised that had it talked to Woods - before he returned his scorecard - about his drop on the 15th hole and about the committee ruling, the committee likely would have corrected that ruling and concluded that Woods had dropped in and played from a wrong place.
"In that case, he would have returned a correct score of eight for the 15th hole and the issue of disqualification would not have arisen."
The R&A and USGA said the incident highlighted the obligation players had to understand the rules and sign for a correct score.
The governing bodies also added that officials had "no general obligation" to alert players to the "potential rules issues that may come to its attention".
"The Woods ruling was based on exceptional facts - as required by rule 33-7 - and should not be viewed as a general precedent for relaxing or ignoring a competitor's essential obligation under the rules to return a correct score card," added the statement.
"Only a rare set of facts, akin to the exceptional facts at the 2013 Masters tournament, would justify a committee's use of its discretion to waive a penalty of disqualification for returning an incorrect scorecard."
The statement also clarified that rule 33-7/4.5 was not a factor, as had been originally thought in some quarters. This new amendment, which was introduced in 2011, allows disqualification to be waived where "the competitor could not reasonably have known or discovered the facts resulting in his breach of the rules".
The so-called "Harrington rule", brought in after Padraig Harrington was disqualified from an event in Abu Dhabi in January 2011, covers players in the event high-definition or slow-motion cameras capture a transgression not visible to the naked eye.