Ye Wocheng, 12, makes history on his European Tour debut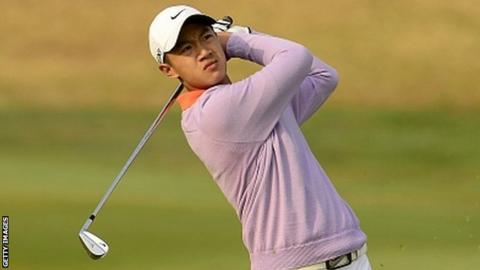 China's Ye Wocheng, 12, has become the youngest player in European Tour history, making a seven-over-par 79 in the first round of the China Open.
The Dongguan schoolboy, who had to qualify, follows in the footsteps of teenagers Andy Zhang and Guan Tianlang, who are both also from China.
Zhang while
"Ye looked a bit nervous but I settled him down," said coach David Watson.
Speaking to BBC Sport, the Englishman added: "The first six holes were fantastic and if we'd finished then we would have been even par, but then the wind started to pick up a bit.
"He was actually hitting the ball quite well and long - he got his distance out there up to around 260, 270 yards - but when he came across a cross-wind he just didn't have the power unfortunately, because he's 12.
"If there's no wind he's up there competing with them all, there's no doubt about it."
Watson said Ye's "ability to listen and respond is way above the norm" but cautioned against putting too much pressure on the youngster, who won last month's Guangdong Junior Championships by 18 shots.
But the coach added: "Ye can go a long way, because he's starting to break records now and if you look at what [world numbers one and two] Tiger Woods and Rory McIlroy have achieved over the years, what he has done wasn't even achieved by them as an amateur.
"If he keeps improving and keeps his dedication the world is his oyster - his ability is limitless. But, at the same time, I know it is dangerous to speculate and we must realise he is just a 12-year-old boy.''
Ye is a two-time winner of the US Kids Junior World Championship, beating the tournament record previously held by world number one Woods with a 12-under-par card.
Golf was banned in China until the 1980s, deemed by the communist government to be too bourgeois.
But more than 23,000 children have passed through the national golf association's junior golf programme since its launch in 2007.