Colin Montgomerie 'inducted into Hall of Fame, not greatness'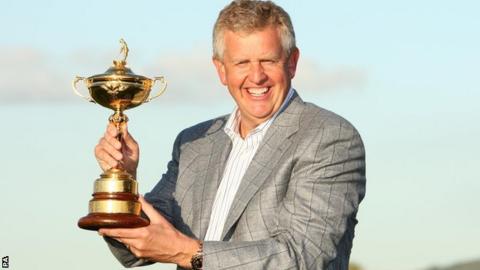 Colin Montgomerie's induction into the World Golf Hall of Fame is richly deserved even though he never won the major title he craved throughout an otherwise glittering career.
Some observers claim the absence of one of the big four titles and his failure to win a Tour event in the United States should bar him from Hall of Fame status.
They argue that every truly great player has won a major and that certainly is a point of view that has genuine merit. But whether you consider Montgomerie one of the game's greats is a separate issue.
At Monday's ceremony in St Augustine, Florida, Monty was inducted into a Hall of Fame, not greatness. The point of these organisations and their museums is to recognise those figures of genuine significance to the sport.
They are there to provide aficionados with a reference point. "We exist to preserve the great history of the game," says Jack Peter, the Hall of Fame's chief operating officer.
"It is our goal that when your children and children's children come visit, you will be immortalised in the Hall of Fame for generations."
Montgomerie was inducted alongside former European Tour executive director Ken Schofield. The significance of both Scots cannot be underestimated.
Schofield was the architect of the massive expansion of the European Tour that harnessed the golden era of Severiano Ballesteros, Sir Nick Faldo, Bernhard Langer, Sandy Lyle and Ian Woosnam.
He created the circuit where Montgomerie prospered with 31 Tour wins. Monty was also able to come into a Ryder Cup team that had learned how to beat America.
Meanwhile in eight attempts the US never found a way to beat the burly Scot in a final day singles.
Whichever way you look at it, Montgomerie's standing in European golf cannot be disputed. A stunning eight Orders of Merit, seven of them coming in consecutive years between 1993 and 1999, illustrate his dominance.
Five times he was runner up in majors, the most of any player not to have landed a green jacket, claret jug, US Open or Wannamaker Trophy somewhere along the way.
He would have won the 1997 US Open at Congressional if he'd played a more sensible schedule. The week before he chose to compete and win in the north-east of England before embarking on a long and delayed drive to Heathrow that Sunday night.
After flying to Washington, Montgomerie was so confident he never went near the range all week. He opened with a stunning 65 but jetlag induced by his ridiculous scheduling undid his second round and he recorded a poor 76.
Even allowing for that miserable score, he ended up losing by only a single stroke to Ernie Els. It was a championship he should have won by a mile.
The Scot should also have won in 2006 at Winged Foot, but his nerve deserted him when he had a routine approach to the 72nd green. He hit the worst shot possible and took a double bogey six when a four would have landed him that first major.
It could only happen to Monty. And this aspect of his career is one of the reasons why he should be recognised in the way he has been this week.
He has been a total one-off; ploughing a lone, often successful, often controversial furrow wherever he has played.
One moment he is charm personified - the most engaging sportsman you will ever meet. The next he can be boorish, angry and rude.
He will always be dogged by the contentious replacing of his ball in Jakarta in 2005 that had many questioning his integrity. Yet he will never be forgotten as a Ryder Cup hero and winning captain in 2010.
Monty is a walking contradiction. He is always forthright, always interesting and insightful. They are qualities that should make for a perfect TV commentator, but in that role he seems to have as many critics as fans.
In short though, he is never dull. And that is why reporters have chased quotes from him throughout his 26-year career.
He has saved countless run-of-the-mill tournament days with views and comments that have generated headlines keeping golf on the back pages and in radio sports bulletins.
Those quotes would never have carried the weight they did down the years if he hadn't been such a successful golfer.
There are those who can't wait for him to turn 50 this June and become eligible for the seniors' circuit. This might be where he might claim that elusive first major - though don't allow ourselves to get carried away with that notion.
He might try to tell us different, but a victory of that nature would in no way make up for the near misses he suffered on the circuit that genuinely counts.
But make no mistake, Monty will help breathe new life into the over-50s scene. It is because he is a figure whose golfing substance is as huge as some of those dodgy sweaters he wore in his plumper days.
Is he a golfing great? That's a genuine debate for the clubhouse bar.
What is beyond doubt is the fact that Colin Stuart Montgomerie OBE has been a very significant force in golf for nearly three decades. Centuries from now students of the game need to know all about him.
His name, therefore, fits very nicely in golf's hall of fame.