Tony Jacklin queries Monty's Hall of Fame inclusion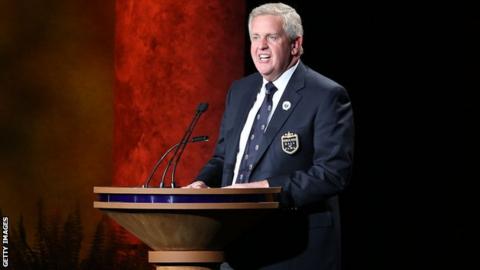 Colin Montgomerie should not have been inducted into golf's Hall of Fame, according to former major winner and Ryder Cup captain Tony Jacklin.
"I had a vote and I went for Ian Woosnam who has won a major," Jacklin told BBC Scotland. "Nothing against Monty but he hasn't."
Monty finished as European number one eight times between 1993 and 2005.
And he managed five runner-up spots in the majors among a total of 10 top-10 finishes.
At Monday's ceremony in St Augustine, Florida, Monty was inducted into the Hall of Fame, alongside American major winners Fred Couples and Ken Venturi.
An eight-time member of the European Ryder Cup team, the Glasgow-born 49-year-old never lost a singles match in the competition and captained his side to victory in 2010.
Reacting last December to news of his induction, Monty described it as "a wonderful surprise".
"I know I am very fortunate to have enjoyed such a successful career playing the game I love and it makes me feel very proud that my achievements have been recognised in this way," he added.
Jacklin, who followed up his 1969 Open championship win at Royal Lytham with victory at the US Open the following year, cast doubt over the merit of Montgomerie's inclusion.
"It's just a personal view, that major championships count for a great deal," Jacklin said.
"In the Ryder Cup, for example, you beat one man on one day. In a major championship, you beat the world over four days.
"There's a huge chasm of difference on that front. Nothing against Colin, he's had a great career, but in this case I voted for Ian.
"It's just an opinion: the hall of fame has some politics involved."