McDowell wants Irish World Cup spot, even if it affects Rio decision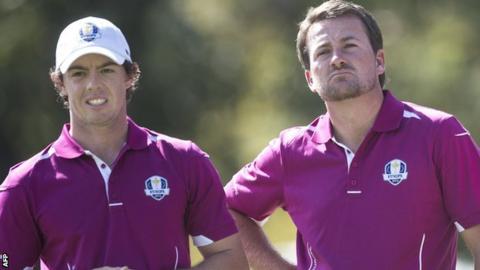 Graeme McDowell says he wants to represent Ireland at this year's World Cup, even if it ends his hopes of competing for Britain at the Olympics.
Northern Irishmen McDowell and Rory McIlroy have been caught up in a debate over who they will represent in Rio.
However, McDowell's latest comments may move the issue on, at least as far as his Olympic allegiance is concerned.
"If it (playing at the World Cup) forces me into playing for Ireland at the Olympics so be it," said McDowell.
The 2010 US Open champion added he had spoken to McIlroy earlier this week about the possibility of the world number two joining him at the biennial World Cup in November.
"I had an informal conversation with Rory whether we are going to play the World Cup together, I need my partner in crime in Melbourne," added McDowell ahead of this week's Players Championships.
"I would love to do that and the Olympics will not enter my head with regards the decision of whether I'm going to play the World Cup.
"Regardless of whether Rory plays (at the World Cup) I want to play and I would like him to be there as well."
McDowell and McIlroy have represented Ireland in the last two stagings of the World Cup, which this year is reportedly set to be played at Royal Melbourne.
However, McIlroy was asked last week whether he would be playing in this year's World Cup and responded by saying "no".
In the same news conference, McIlroy said he had "a choice" over which country he represents at the 2016 Rio Games despite earlier comments from R&A chief Peter Dawson that the decision could be taken out of the golfer's hands by Olympic rules.
"If you change country or don't play for that country for three years you still have a choice," said McIlroy.
"I've not played for anyone since the World Cup in 2011, the Olympics would be five years so I still have a choice."
That might change if McIlroy opted to play at this year's World Cup and that provoked McDowell on Wednesday to add that the "dilemma Rory and I face is a very unique one".
McIlroy has previously said he might simply not play in Rio to avoid upsetting people with his decision.
"I would rather not talk about it until the time I have to decide what to do," added McIlroy.