Vijay Singh to sue PGA Tour over antler spray suspension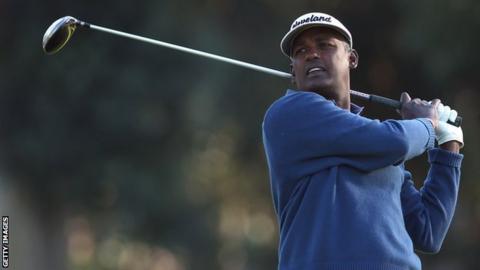 Vijay Singh is to sue the PGA Tour for banning him from competition without a test for using deer antler spray.
The Fijian admitted in January to using the substance, which contains small amounts of a growth hormone banned by the World Anti-Doping Agency (Wada).
The PGA suspended the former world number one after his admission, but the 50-year-old successfully appealed.
Singh's lawsuit, submitted in New York, claims the ban left him "humiliated, ridiculed, and emotionally distraught".
Singh's admission came in an interview with Sports Illustrated, in which he said he was using the spray "every couple of hours" and was "looking forward to some change in my body".
According to the lawsuit, which the PGA did not comment on, the 2000 US Masters champion was suspended for 90 days on 19 February despite there being no test in existence for the substance.
When the golfer appealed, Wada advised the PGA Tour that it no longer considered deer antler spray a banned substance "unless a positive test results".
"I am proud of my achievement, my work ethic and the way I live my life," said Singh in a statement.
"The PGA Tour not only treated me unfairly, but displayed a lack of professionalism that should concern every professional golfer and fan of the game."
The lawsuit says the three-time major tournament winner "seeks damages for the PGA Tour's reckless administration and implementation of its Anti-Doping Program".
It adds: "Rather than performing its duties to golfers first, and then determining whether there had been any violation of the Anti-Doping Program, the PGA Tour rushed to judgement and accused one of the world's hardest-working and most dedicated golfers of violating the rules of the game."
Singh's attorney, Peter R Ginsberg, added: "The PGA Tour could have known by conducting some basic testing and research, the product that Singh sprayed contained no active biological ingredient and could not possibly have provided any performance enhancement."