European Tour rules out World Cup spot for Northern Ireland team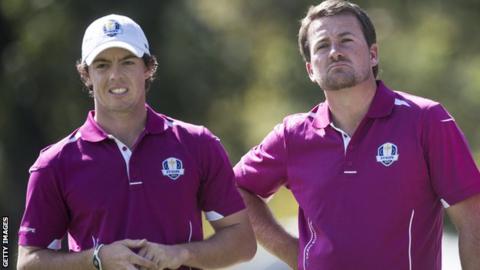 A Northern Ireland team will not participate at this year's World Cup in Melbourne, the European Tour has said.
Ireland has competed at previous World Cups but organisers of this year's event said on Sunday that a Northern Ireland team would feature in November.
However, the European Tour said on Friday that the original statement had been incorrectly worded.
The World Cup issue has implications over who Rory McIlroy or Graeme McDowell represents at the Olympics.
McIlroy and McDowell have played for Ireland in the last two World Cups but McIlroy confirmed last month that he would not do so this year as it would rule out the possibility of him playing for Great Britain in the 2016 Olympics.
For his part, McDowell said that he was determined to play at Royal Melbourne even if that closed the door to him representing Britain at the Rio Olympics.
McDowell added that he wanted world number two McIlroy to be his partner in Australia.
On hearing of the apparent change earlier this week, McIlroy said: "That might change things a little".
However, the European Tour's clarification of the issue on Friday could end the prospects of McIlroy joining McDowell at Royal Melbourne, with an all-island team again set to represent Ireland in the event.
"Can I stress that Northern Ireland will NOT be entering a team in the World Cup," the European Tour spokesman told the BBC.
Last weekend's statement from the International Federation of PGA Tours had read:"The major difference between the World Cup qualification model and that of the Olympic golf competition is that England, Scotland, Wales and Northern Ireland will each be considered a separate country."
The European Tour said on Friday that the statement should have referred to "Ireland" and "not Northern Ireland".
The International Federation of PGA Tours made the original comments on Sunday as Royal Melbourne was officially unveiled as the venue for the World Cup on 21-24 November.