Galgorm Castle to host qualifier for Challenge Tour event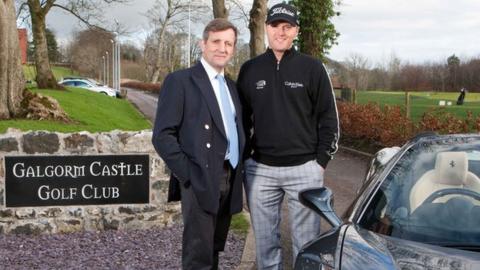 Top amateurs are to be handed the chance to compete in the Northern Ireland Open Challenge event at Galgorm Castle in late August.
The tournament organisers have announced that a qualifying event for the European Challenge Tour event will take place at Galgorm on 12 August.
This will be open to professionals and elite amateurs who have a handicap of scratch or better.
The top five will progress to the event proper from 29 August to 1 September.
New touring Galgorm professional Gareth Shaw, who is a regular on the Challenge circuit, says the tournament is a great opportunity for top local players to gain some experience in a big event.
"From a selfish point of view it's very important to have such a great tournament here in Northern Ireland," says Shaw.
"It also gives home players the opportunity to get into other events in Europe.
"A number of overseas players will get invited to compete at Galgorm but in turn those invites are exchanged with events in other countries and that's vital."
The qualifier will be restricted to 120 competitors with the closing date 29 July and the official practice day to take place on 11 August.
A further invite to the European Challenge Tour event will go to the winner of the North Of Ireland Amateur Open Strokeplay event which takes place over 72 holes at Galgorm on 15-16 July.
Massereene's Tiarnan McLarnon will defend the amateur event after winning 12 months ago while the field is also likely to include Spanish Amateur Open champion and Walker Cup candidate Reeve Whitson.
Those already in the Galgorm field include four-time European Tour winner Michael Hoey who will perform as event ambassador in late August.
The field is certain to include a number of regular European Tour winners as those competing on this season's Challenge circuit include European Tour winners Ross McGowan, Nick Dougherty and Daniel Vancsik.