Anchoring putter ban: Adam Scott among group considering action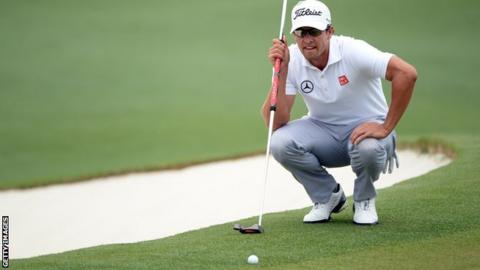 Masters Champion Adam Scott is one of nine players taking legal advice over the ban on anchored putters from 2016.
Governing bodies the R&A and the US Golf Association (USGA) said on Tuesday they had decided to impose the rule.
The ban will apply to any club rested against a part of the body, such as the broom-handle or the belly putter.
South African Tim Clark and Sweden's Carl Pettersson are also preparing to contest the ruling.
The other six players are currently unknown.
Clark said: "We do have legal counsel. We'll explore options. We're not going to just roll over and accept this."
Boston based lawyer Harry L. Manion represents the nine players and says he has read the governing bodies' explanation for the ban.
"I'm not persuaded by it," Manion told GolfDigest.com
"There's some good lawyering in there, but I don't think they've made the case, and I believe the court would see it that way, too."
At the announcement of the ban, which takes effect from 1 January 2016, R&A chief executive Peter Dawson admitted to being concerned that players could file lawsuits.
"I very much hope not," he said. "I don't think lawsuits will be on particularly strong ground."
The PGA Tour opposed the ban when it was first proposed and, following its confirmation, a statement said: "We will now begin our process to ascertain whether the various provisions of Rule 14-1b will be implemented in our competitions and, if so, examine the process for implementation.
"In this regard, over the next month we will engage in discussions with our Player Advisory Council and Policy Board members.
"We will announce our position regarding the application of Rule 14-1b to our competitions upon conclusion of our process."
A 90-day consultation process was allocated for comments and suggestions when the proposals were first unveiled in November last year.
The USGA dealt with about 2,200 individual responses, while the R&A received 450 replies from 17 countries.
Clark, 37, who earned a five-year exemption on the PGA Tour after winning the Players' Championship in 2010, dismissed the consultation period as "all smoke and mirrors".