Sergio Garcia's 'fried chicken' remark on Tiger Woods harms golf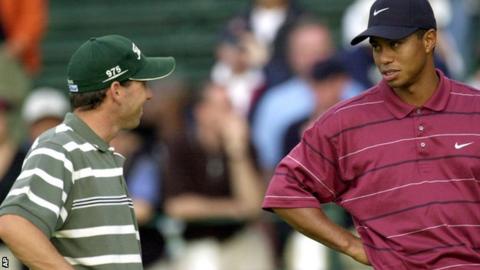 Standing on the range at a golf club in leafy Surrey last weekend, the scene was one to cheer golf fans everywhere.
An army of teaching professionals were introducing children as young as three and four to the game. Men and women from a multitude of races and nationalities were teeing off in the most relaxed atmosphere imaginable.
Anyone present on this spring Sunday afternoon would have been compelled to regard golf as an inclusive game with modern attitudes and strong roots from which to grow in the future.
It certainly defied the stuffy and elitist image with which the sport is all too frequently saddled.
And then two days later one of its biggest names went way too far with a jokey answer at a swanky dinner. The great and the good of the game were watching on and knew a major error of judgement had been committed.
Sergio Garcia's crack that he would serve Tiger Woods "fried chicken" meant that one of golf's top stars was prepared to use racial stereotyping to gain a laugh.
The Spaniard strayed into an area where there has to be zero tolerance. Top golfers aren't mere sportsmen; they are global figures representing their countries, sponsors and the game at large. They are the public face of the sport, figures to inspire the club pros who so enthusiastically introduce today's youngsters to the game.
Accordingly, leading lights like Garcia are no strangers to having microphones thrust in their faces. They regularly appear at corporate gigs like the one at which the Spaniard made his ill-judged joke.
As Garcia acknowledges, there are no excuses for what he said. His main sponsors have expressed their disapproval by stating that the fried chicken comment was "offensive and in no way aligns with TaylorMade-adidas Golf's values and corporate culture".
Garcia is thought to earn $5m a year from the California-based firm, which is continuing to review the controversy. The player has always been regarded as one of the company's best ambassadors and is hugely popular at corporate events. This reputation may save his contract, but only just.
The company's response looks like amounting to a final warning and were the Spaniard to transgress again he would be looking elsewhere for clubs and apparel. Big business is at the heart of golf and image is all important.
So too is the way the game is regarded by the world at large. Despite years of progress, golf still retains that elitist image and has shameful moments of racism in its history.
It was only in 1975 that Clifford Roberts, the then chairman of the Augusta National, said: "As long as I'm alive, golfers will be white and caddies will be black."
When Woods won his first green jacket in 1997 Fuzzy Zoeller made the original "fried chicken" comment when asked what he thought the winner would serve up at the following year's champions' dinner.
Zoeller to that point had been a hugely popular figure. From then on his image was tarnished forever and sponsors deserted him.
He was not punished by the Tours, however, and the bosses have also deemed that an apology suffices from Garcia. European Tour chief executive George O'Grady declined the BBC's request to discuss further this controversy.
It is hard to imagine other sports allowing such behaviour to go unpunished. Contrast golf's response with the latest Uefa ruling that racist actions will result in minimum 10-game bans for footballers.
The European and PGA Tours have passed up an opportunity to tangibly display that there is no room for racism in golf.
Among fans too there is a feeling of forgiveness. Garcia received the loudest cheer of the three players in his group when he arrived on the first tee for the BMW PGA Championship. He even received a warmer reception than that given to the home star and defending champion Luke Donald.
But while good will remains in Europe, it will be interesting to see whether that proves the case at next month's US Open.
Garcia will have to continue to mend bridges with continued contrition. Golf cannot be seen to tolerate such behaviour from its biggest stars - especially if it wants the message to be sent out that it is a sport for all, just as it appeared to me on the range last Sunday afternoon.