US Open 2013: Merion poised to spring major trap
Last updated on .From the section Golf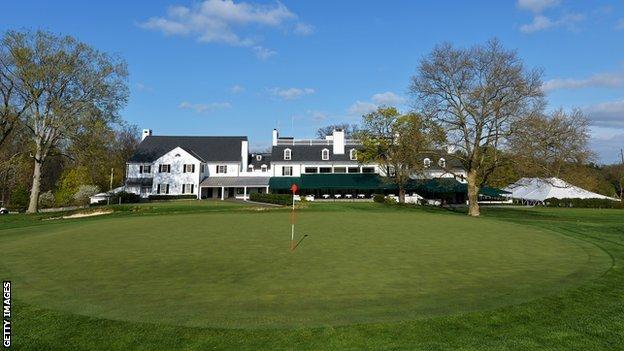 She might just be a slip of a thing, susceptible to the swaggering advances of blade-wielding modern pros, but Maid Merion could easily be ready to spring a trap when the US Open begins on Thursday.
Merion Golf Club's 6,996-yard East Course in Ardmore, 11 miles west of Philadelphia, will be the shortest US Open layout - and the first below 7,000 yards - for nearly a decade.
But the blend of short and long holes, challenging greens, deep bunkers, penal rough and unique wicker baskets instead of flags have attracted the US Open back for the first time since 1981.
The course, laid out in 1912 as an offshoot of the Merion Cricket Club which was established in 1865, is iconic in US golf and steeped in history.
In 1930, the legendary Bobby Jones won the US Amateur title at Merion to complete the Grand Slam; in 1950, Ben Hogan won the US Open there, 16 months after a near-fatal car crash; in 1971, Lee Trevino beat Jack Nicklaus in an 18-hole play-off for the US Open.
"This place is just magical," said Mike Davis, the USGA executive director. "In so many ways, it's historical. It's an architectural treasure. From a golf standpoint, I think you could easily say it's a landmark."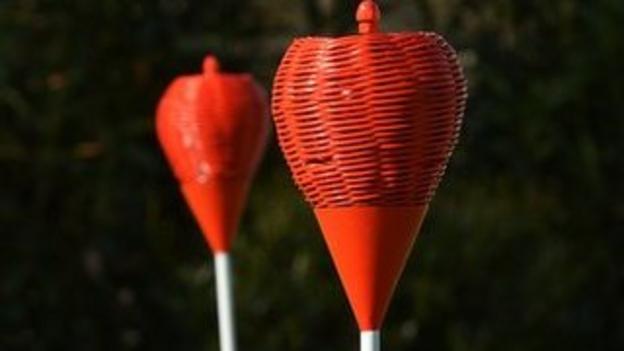 But after Australian David Graham won the 1981 US Open at Merion, few thought the championship would be back.
Mini Merion was seen as too short for golf's burgeoning power game, and lacked space on the 111-acre layout to host the infrastructure needed for the demands of a modern major tournament.
But the club's members worked hard to change the USGA's mind, using some "out-of-the-box" thinking and enlisting the help of the local community to tackle some of the logistical concerns.
Residents are allowing use of their property for some of the corporate infrastructure, while other facilities such as the players' lounge and practice range will be a mile down the road at Merion's West Course.
Tickets will be limited to 25,500 per day with 180,000-190,000 visitors expected during the week compared to about 230,000 at recent US Opens.
The USGA are resigned to making a loss, but insist taking the championship to "special" venues is worth it.
The 2005 US Amateur confirmed that Merion East still had the golfing pedigree. Measuring 6,846 yards, there were only four sub-par scores during qualifying. In 2006, Merion got the nod.
"Operationally, it has been a challenge to fit a modern-day Open on 110 acres or so - you just can't do it without incredible cooperation," said Davis. "This is going to be a different US Open; this is going to be a boutique US Open."
About 400 yards have been added to Merion since 1981, but it still lags way behind Torrey Pines in California, which measured 7,643 yards when it became the longest US Open course to date in 2008.
Instead, the principle defences are tight fairways, averaging about 25 yards wide, thick rough that gets deeper the further off line you go, a host of blind shots, fast-running and difficult-to-hold saucer-shaped greens, and deep bunkers, called "white faces" by the members.
The US Open has the reputation as the toughest of the majors, with courses set-up at their most challenging.
According to the USGA website, the organisation "strives to make the US Open the most rigorous, yet fair and complete, examination of golf skills, testing all forms of shot-making".
Davis, who denies the USGA are fixated on a winning score around even par, said: "When you really study Merion, you realise that this blend of short and long is going to be such an exciting feature of this Open.
"There's going to be more birdies made, trust me, at this US Open than any we have seen in recent history. Why? Because there are just some holes out here that lend themselves to it - which is wonderful.
"I would contend that you've got this balance of some of the easiest holes for US Opens that you'll see in the modern era, yet at the same time they have got some of the toughest holes."
Tiger Woods famously won the Open at Hoylake in 2006 by using mostly irons off the tees for position, and defending US Open champion Webb Simpson believes a similar precision approach will be key at Merion.
"What it demands of the players is so different than most golf courses," said the American. "Most courses now are evolving to be a bomber's paradise, every par four is 500 yards and you hit driver on every hole.
"Merion's the opposite. I only hit a few drivers. I think a guy with a good wedge game and a good mind will have the advantage.
"It's one of those golf courses that you give a lot of respect, a lot of credit."
Trevino recently told Golf Digest magazine: "If the USGA gets blessed and there is no rain the first two weeks of June, it will be the hardest US Open course these players have seen."
Davis, however, said the difference between a firm and fast course and a rain-softened layout could be 18-20 shots.
In 2011, heavy rain softened Congressional - the second longest US Open course at 7,514 yards - and made it vulnerable to low scoring. Rory McIlroy romped to an eight-shot victory, setting 11 US Open records along the way, including the lowest total 72-hole score (268) and the lowest total under par (-16).
"I hope they get the weather for the way they want the golf course to play. From talking to people there, I think if it's wet, it could be torn apart," said Lee Westwood.
Simpson, who won his maiden major at the Olympic Club in San Francisco 12 months ago, rates Merion as his favourite course but warned against complacency.
"I don't think they will ever be a point in this US Open where somebody will have it won, because the last five holes are so hard that a guy will be hanging on, so that will be exciting for the fans," he said.
Davis believes the unique layout offers more players a chance of winning than any other US Open course.
But only those who treat Merion with proper respect will land her spoils.