Teenager James Hamon wins Guernsey golf championship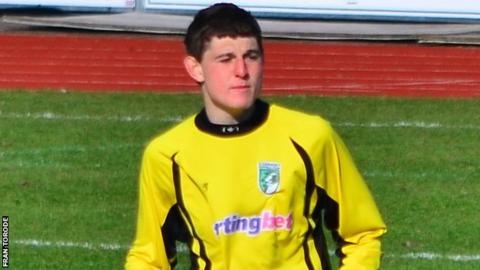 James Hamon has been crowned one of Guernsey's youngest ever golf champions after the 17-year-old beat Dave Jeffery 2 and 1 at L'Ancresse.
Hamon is not 18 until 1 July and is the island's reigning golfer of the year.
He is also an accomplished goalkeeper, playing for Guernsey FC and having trials at League Two club Exeter City.
"Football's basically my life at the moment, so everything's got to revolve around football, and I'm playing golf when and if I can," he said,
And Hamon says his match with Jeffery, who at 33 is almost twice his age, was a tough one at his home course.
"I got a couple up early on, but it was quite close fought throughout," he told BBC Guernsey.
"Dave played some really solid golf, but luckily I managed to hold on and get the result I wanted.
"Dave's a very consistent player and his experience really shone through come the last eight or nine holes of the final 18.
"But my golf was good enough to hold and I was good enough to get the result I was looking for."