Tiger Woods keen to move on from 'fried chicken' controversy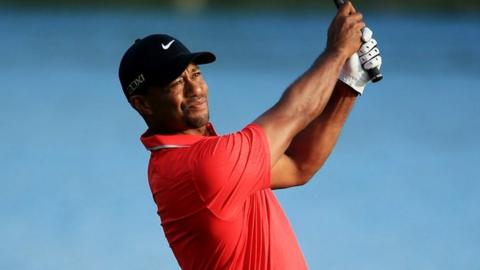 Tiger Woods says he wants to move on from the controversy surrounding Sergio Garcia's "fried chicken" comments.
At last week's European Tour awards dinner, Garcia joked he would invite Woods for dinner to settle their recent argument and serve fried chicken.
The food is stereotypically associated with black people in the American deep south and Garcia apologised to Woods's agent for the remarks.
"It's already done with. It's time to move on," insisted Woods.
Garcia has not yet apologised directly to Woods, which he plans to do at next month's US Open.
The world number one had already tweeted last week that Garcia's comments were "wrong, hurtful and clearly inappropriate".
But he said he had not given any consideration to letting Garcia speak to him face-to-face before they meet at the next major of the year at Merion Golf Club in Philadelphia, which runs from 13-16 June.
Woods said: "I think he did [apologise], not in person though. So I'd have to fly to Wentworth? I was at home."
The feud between the pair flared up earlier this month at The Players Championship when Garcia complained he was distracted by crowd noise he felt had been generated by playing partner Woods.
Garcia escaped punishment for his subsequent remarks but Woods said he was not surprised that comments of that nature continue to be made.
"It's happened my entire life," he added. "It exists all around the world, not just in the sport of golf.
"I know there are a lot of people that are trying to make a difference and trying to make it more fair for all."
Meanwhile, 18-time major winner Jack Nicklaus admits he is frustrated by the controversy.
"The Sergio-Tiger thing, I mean it's stupid," said Nicklaus. "I mean...do guys have an issue with one another? They usually resolve it themselves.
"You guys want to resolve it in the newspapers today. Nobody needs that. And I think they both finally said it's enough. Let's move on."