Justin Rose: US Open champion 2013 - road to major glory
Last updated on .From the section Golf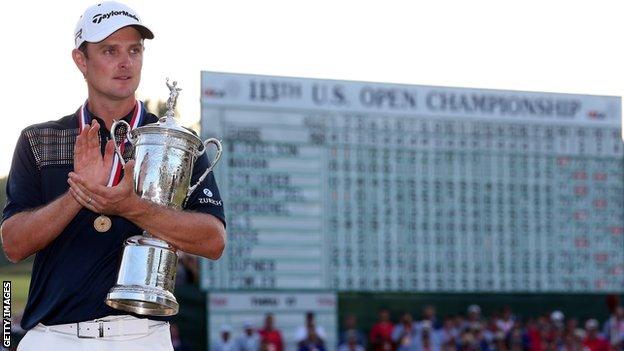 Justin Rose kept his nerve on Sunday to win the US Open for his first victory in a major as he also became the first Englishman for 43 years to win the tournament.
The 32-year-old carded a final-round 70 at the Merion golf course in Pennsylvania to claim the biggest prize of his career to date.
He cut an emotional figure after holing his last putt as he looked up to the sky in tribute to his late father.
BBC Sport takes a closer look at the life and career of the latest major winner.
EARLY LIFE
Born in South Africa, the guidance of his father, Ken, did not take long to materialise as Rose Sr gave his son a plastic golf club at the tender age of 11 months.
Aged five, Rose moved to England and began to play golf at Tylney Park and then Hartley Wintney golf club near his Hampshire home.
His brother is an ex-professional in South Africa and he kept up his family's golfing traditions as he first broke 70 aged 11 and had a plus three handicap when 14.
He played in the 1997 Walker Cup at only 17 as he became the then youngest player in that event's history and second youngest to date.
CAREER HIGHS & LOWS
Rose announced himself to the golfing world as a 17-year-old amateur at the 1998 Open at Royal Birkdale. On the final hole, he pitched a 45-yard shot over a bunker and into the hole for a birdie before receiving a standing ovation on his walk to the green as he finished in a tie for fourth
He turned professional following his performance at the 1998 Open only to miss 21 consecutive cuts
Rose failed to get through qualifying school in 1998 in a bid to earn his European Tour card for the following year. He went through qualifying school successfully in 1999 and 2000 before earning his place on the tour through his yearly ranking
In 2002, the Englishman achieved his first professional victory when he won the Dunhill Championship in South Africa and he went on to also claim the Nashua Masters, Chunichi Crowns and Victor Chandler British Masters titles that year
He won the Volvo Masters in 2007 on the way to earning that year's European Order of Merit
Rose earned his first win in the United States by winning the Jack Nicklaus Memorial Tournament in 2010
He was overlooked for a Ryder Cup wild card spot by Colin Montgomerie in 2010
The Englishman was part of the 2012 Ryder Cup team and secured a vital singles win over Phil Mickelson as Europe come back from 10-6 down to win in the

'Miracle at Medinah'
FATHERLY INFLUENCE
Rose's father Ken passed away aged 57 in September 2002 after a battle against leukaemia.
In an interview with Golf Digest in 2007, Rose provided an insight into the close bond between him and his father.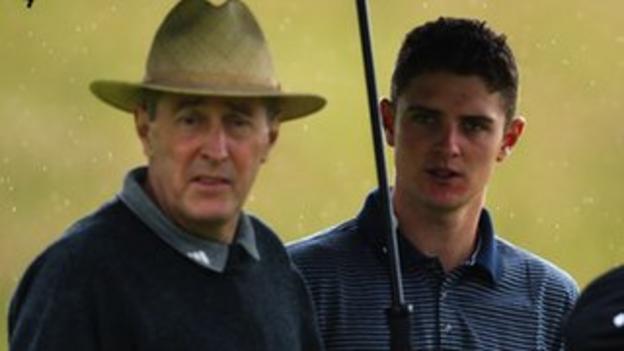 "My dad had a great understanding of me," he recalled. "He would just look into my eyes and either leave me alone because I was ready or decide if I needed something from him.
"I remember he gave me a great talk before I played with Tiger [Woods] in the first round at the [2002] Open at Muirfield. It was a big deal because Tiger had won the first two majors and there was a lot of hype.
"It came at a time when my dad was obviously not healthy and he just said: 'We've faced far tougher things in our life than this round of golf.' It was sad but it was also inspiring and it gave me so much perspective. I played really well and shot 68. I always remember that lesson."
ROSE ON ROSE
"I've never experienced a bigger buzz than that moment on the 18th green, when that pitch shot went in. I've had as satisfying moments on the golf course, but never quite that sort of buzz."
Justin Rose speaking at Royal Birkdale, 10 years after finishing fourth in the 1998 Open.
Ken Rose: "You know Jus, you don't have to go through that ordeal every week. I can get you out of the recorder's tent a back way so you can give the journalists the slip."
Justin Rose: "Dad, I've got to do it. It's part of the process. I've got to learn to deal with this."
Father and son on the media attention that followed when Justin missed the cut 21 times in a row after the 1998 Open.
"It's nice just to go down to my local club, North Hants, and have a pint in the bar and see some of the old faces and people that have been really, really good to me through the years.
"The secretary always used to give me a rollicking for having my hat on in the clubhouse and stuff like that. So I can't get away with anything that's not acceptable just because I'm known off the golf course."
Rose admitted his stellar reputation counts for little at his home course in Hampshire.
"I'm one week away from winning a major. It could be any week. If things go my way I believe I'm capable of winning any major I tee off in now.
"Confidence is the X-factor. It is not something you can rush; it comes over time and helps piece the rest of your game together. I have enough deep-rooted confidence to know that if not this week, then next week it will turn around."
Rose speaking to BBC Radio 5 live's Sportsweek programme on 9 June ahead of the 2013 US Open at Merion.
WHAT OTHERS SAY
"Justin has always had very good manners. We imposed discipline and he seemed to welcome it."
Justin Rose's mother Annie.
"There's no give-up in Rosie. I think the key for him right now is to be consistent because the media are going to build him up to be something pretty big."
World number one Tiger Woods, after watching the 17-year-old amateur Rose finish fourth in the Open in 1998.
Nick Faldo on Rose after he worked through the difficult start to his professional career.
"Justin has got a slight issue with his head when he is putting - it moves slightly as he looks for the ball before the contact is made and I think that's why the ball goes out to the right.
Eight-time Order of Merit winner Colin Montgomerie on Rose's previous difficulties on the green.
"He finished like a true champion. It takes a lot of courage to win a major championship. You have to stay in the moment, which sounds very easy but when the stakes are high it's very hard.
"To come through it is fantastic and I was proud of him. He's a good guy, he's good for the game."
Tony Jacklin - the last Englishman to win the US Open - in 1970 - speaking to BBC Radio 5 live after Rose's triumph at Merion.
CAREER STATISTICS
Rose has eight tournament wins across the European Tour and the PGA Tour
His total prize money on the PGA Tour to date is about £15.3m, while he has earned about £11.1m on the European Tour
His win at the US Open saw him become the first Englishman to win a major since Nick Faldo in 1996
Rose is the third UK winner of the title in four years after Northern Ireland's Rory McIlroy (2011) and Graeme McDowell (2010)
His US Open win moves him up to third in the world rankings