PGA Tour agrees to anchored strokes ban from 2016
Last updated on .From the section Golf77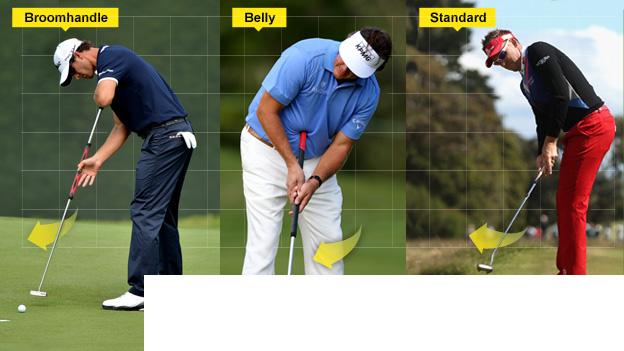 The PGA Tour will implement the global ban on anchored strokes from 1 January 2016 to "avoid confusion".
The PGA has now decided that a single set of rules on acceptable strokes is "desirable and would avoid confusion".
The ban will apply to any club rested against a part of the body, such as broom-handle or belly putters.
Four of the last seven major winners have used anchor putters, most recently Adam Scott at this year's Masters in April.
In May, the PGA Tour said it would discuss the matter with its Player Advisory Council and Policy Board members and, having done so, has said it will "allow" the ban.
A PGA Tour statement read: "The PGA Tour Policy Board acknowledged that the USGA's ban on anchored strokes, known as Rule 14-1b, will apply to PGA Tour competitions beginning on January 1, 2016.
"In making this acknowledgement, the Policy Board also passed a resolution strongly recommending, along with the PGA of America, that the USGA consider extending the time period in which amateurs would be permitted to utilise anchored strokes beyond January 1, 2016.
"PGA Tour competitions are conducted in accordance with the USGA Rules of Golf. However, the Policy Board reserves the right to make modifications for PGA Tour competitions if it deems it appropriate."