Why the Scottish seaside offers perfect preparation for the Open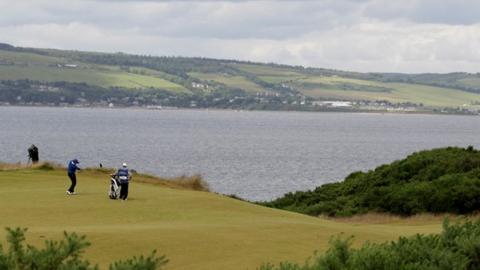 Golf portrays itself in its most fascinating light over the next fortnight as dramas are played out amid the unique variables provided by the seaside game.
The sport's founding fathers used the terrain afforded by the areas that linked the sea to land suitable for farming. This was, therefore, known as the links - a place only good for trying to knock a stone into a hole with a shepherd's crook.
And despite all that has changed in golf with equipment and ball technology, it remains the links form of the game that provides its most captivating arena for players and spectators alike.
It takes touch, power, controlled ball flight and imagination to play this form of the game. The lowest route is often the best as the ever-changing coastal weather dictates how each hole is tackled.
The decision to move the Scottish Open back to the game's roots two years ago - albeit to a new links course at Castle Stuart - was long overdue.
It remains a mystery why more players don't regard this venue as an ideal place to hone preparations for the Open that follows a week later at Muirfield.
Darren Clarke credits playing the Inverness links in 2011 as one of the key reasons behind his Open victory at Royal St George's and Ernie Els was in the Scottish Open field a week ahead of his Lytham triumph last year.
Els plays Castle Stuart again this week as does Phil Mickelson, who came as close as he has ever has to winning an Open at Sandwich two years ago.
When the Scottish title was contested at Loch Lomond, there was no opportunity to hone links skills. Mickelson played there because it was backed by one of his main sponsors - now his reasons for competing in Scotland are purely driven by Open preparation.
Padraig Harrington is another who has provided evidence of the benefits of tuning up for the Open with seaside golf. He shifted a few rungs down the golfing ladder to play the Irish PGA at Wicklow's European Club the week before his first Open triumph in 2007.
Surely there is a huge opportunity for the European Tour to attract the biggest names from both sides of the Atlantic at this time of year.
Would it not make more sense to have the Irish Open on a links course a week ahead of its Scottish equivalent? That would make a fortnight of perfect preparation ahead of golf's greatest championship.
Effectively it would create a three-week festival of links golf, which would be bound to stimulate interest amid a crowded sporting calendar.
The game has to fight with everything it has to continue to command maximum attention. From 2015, that task will be made even more difficult with a shift in the Wimbledon dates.
The All England Championships will happen a week later with the Wimbledon title decided on the Sunday immediately before Open week. There is a real danger that golf's big build up will be overshadowed by the deeds of Andy Murray and co.
Of course, shifting the calendar is fraught with difficulty. Tournaments are staged at venues prepared to pay for the honour and that means events rarely take place on the most appropriate courses.
Next year, though, the Scottish Open will fittingly be played at Royal Aberdeen, providing another excellent pre-Open workout. In 2012, the Irish Open was staged brilliantly at Royal Portrush.
Imagine a fortnight of European Tour events at two such magnificent venues.
Golf would be far better equipped to command its share of the sporting headlines on great courses such as those.
Who knows? We might see fewer big golfing names in Wimbledon's Royal Box because they'd be playing instead. So many of our leading stars lapped up the tennis, including Justin Rose at the final on Sunday.
Another I bumped into was Thorbjorn Olesen, the 23-year-old Dane considered by many to be alongside Matteo Manassero as the most exciting European prospect.
But one rising star who was otherwise occupied over the weekend was Jonas Blixt, a Swede who at the age of 29, is hitting the heights on the PGA Tour.
Blixt collected his second title with victory at the Greenbrier on Sunday but has so far gone largely unnoticed by European fans. His golfing graduation has come through the American system rather than his home Tour.
Now he is preparing for his first Open and it would be lovely to think that in the future he might be able to do that for a sustained period on this side of the Atlantic.