The Open 2013: Magical Muirfield set to test the best in 142nd Open

Last updated on .From the section Golf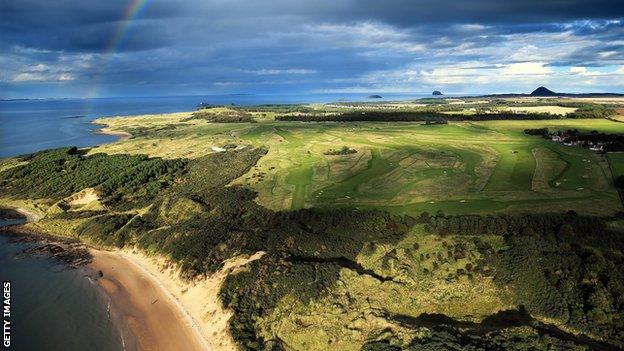 Mention Muirfield to golf's great and good and you get misty-eyed musings on a magical links course. Others can't see past an anachronistic club that refuses to admit women members.
On the golf side, Muirfield counts among its Open champions some of the game's biggest names - Jack Nicklaus, Gary Player, Tom Watson, Lee Trevino, Nick Faldo, Ernie Els. Somehow, the cream always rises to the top at Muirfield.
"It is really one of the great golf courses of the world," Player told BBC Sport.
"The design is highly intelligent. It has got more variety of shots than any course I know. The rough is good and the bunkering is absolutely exquisite."
The course, home to the Honourable Company of Edinburgh Golfers, lies 20 miles north east of the Scottish capital on the southern coast of the Firth of Forth. The layout, flanked on two sides by woods, offers what most describe as a "tough but fair" challenge.
The holes span out in two loops of nine from the clubhouse, unlike a more typical "out-and-back" links that only returns at the 18th. The front nine runs clockwise, bordered by low stone walls, while the second nine goes back out anti-clockwise inside the first. No more than three holes in a row follow the same direction.
The prevailing wind is from the west, but can just as easily swing south or east. In the infamous storm on the Saturday of the 2002 Open, the gale blew from the north east.
"The course has great balance. What I like about it is you play downwind, you play into the wind, you have crosswinds from every direction," added Player, who won the first of his three Opens there as a 23-year-old in 1959.
Muirfield is so revered it has been used as a blueprint for golf design across the world. Nicklaus, who won his first Open there in 1966 to complete a career Grand Slam of all four majors, named his signature course in Ohio "Muirfield Village". Watson, Player and others admit to copying elements of Muirfield into their own course designs.
"The Open courses have all got their own character, but it's got to be one of the best," said BBC commentator Ken Brown, who played in the last group with winner Watson at Muirfield in 1980. "It's not flashy, but everything about it is classy and just right. The challenges are right in front of your eyes, there are no tricks about it and not many blindshots.
"There are a few undulating fairways but compared to Royal St George's it's billiard-table flat, so you are less likely to get flukey bounces.
"The fairways are not generous, but rather a friendly width."
Muirfield's "signature hole" is arguably a group of holes, the short ones - the 4th, 7th, 13th and 16th.
"They are some of the best par threes you're ever going to find," added Brown, who insists this week's Muirfield set-up is the "best-condition course I've ever seen for an Open Championship".
"That was one of designer Harry Colt's specialities. He had the ability to frame them, make them interesting, with nice putting surfaces," explained Brown.
"There are some absolute beauties at Muirfield and the 18th is a wonderful finishing hole in a beautiful setting."
The man at the helm is course manager Colin Irvine, who will be in charge for his second Open at Muirfield and fourth at the course in all.
Irvine's men, along with Open organisers the R&A, have been working on the layout for a couple of years. Fifteen holes have been tweaked, with some new tees and tightened bunkering. Some 158 yards have been added since 2002, giving it a total length of 7,192 yards at a par of 71.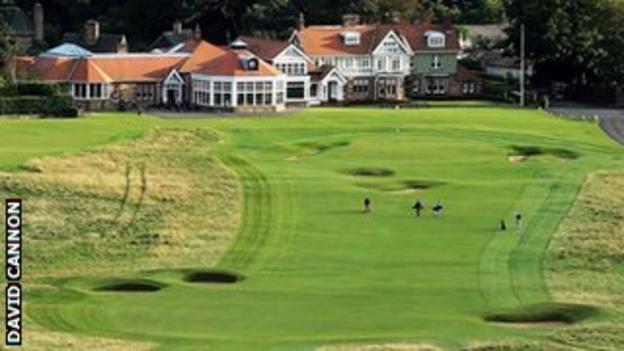 "We're known for our rough here, it's one of our main defences along with the bunkers, but it looks thicker than it is," Irvine told BBC Sport.
"Spring was quite cold so things were slow to grow. You can't force it on but we've had a decent enough summer and had some heat and some rain in between so it's been quite a good growing season overall.
"If you just roll off the fairway you'll be able to find it and hit it, no problem. Stray deeper and it could be a different story."
Player certainly hopes so. "We have too many players at the top of the game who are wild hitters and struggle to hit the fairway. The tee is the one place you are guaranteed a perfect lie. There is not enough premium on driving, it's all on putting and the short game."
The modest-sized greens are only gently undulating but drop-offs and deep pot bunkers call for accuracy. At night, they will be guarded by a squad of ever-alert Gurkhas.
"They won't sleep. It is their job to protect that bit of turf," said Irvine, whose crew of about 30 greenstaff will be on the course from 04:00 BST every day of tournament week.
"The last time the Gurkhas almost stopped the greenkeepers getting on."
The Honourable Company claims to be the oldest golf club in the world, dating back to 1744, when it was based in Leith. It moved to a new course at Muirfield in 1891 and hosted its first Open the following year. Tony Jacklin describes Muirfield as "special", despite having his heart broken there by Lee Trevino in 1972. But it has also been branded "stuffy" and "snobby" over the years.
"In days gone by Muirfield got a reputation for all the wrong reasons - for that tyrant who was secretary. He was a horror story," Jacklin told BBC Sport.
The "tyrant" was Captain PWT "Paddy" Hanmer, a retired Naval officer who ruled with an iron fist from 1968-1983. His mission in life, it seems, was to keep non-members - and particularly Americans - off the course.
Jacklin was part of the gang, along with a piper, wandering around with Tom Watson and Ben Crenshaw, who were playing a couple of holes with old hickory clubs late on the Sunday evening after the 1980 Open.
"Hanmer got wind of it - he was having dinner in Gullane somewhere - and came to find us," said Jacklin.
"He was shouting, 'be in my office at 0600 tomorrow'. And Watson and Crenshaw had just finished first and third in the Open.
"He was as infamous as the club was famous. That's not what Muirfield deserves to be remembered for."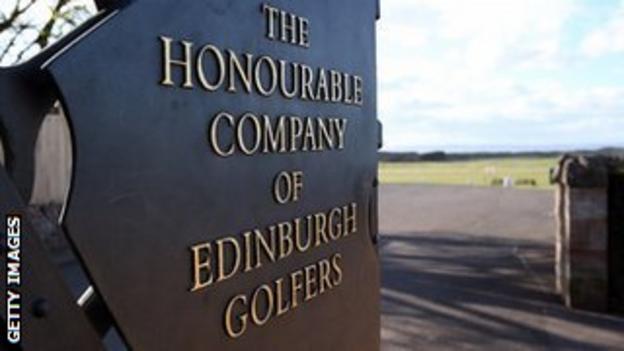 Hanmer may be long gone, but Muirfield is still a bastion of tradition. However, current secretary Alastair Brown, who is from a marketing background, rather than the military, insists the club's public persona has softened.
"We always had an image which was slightly aloof and slightly not interested in the outside world and I think we've tried to change that without abandoning everything of the past," said Brown.
"Paddy was a great secretary but it was a different era, more authoritarian in those days. Muirfield is a very approachable place. We've opened our doors to more visitors than ever before."
But it is the refusal to admit women members - although they can play as guests - that will receive the most column inches this week. Brown, though, insists Muirfield is "more accessible than probably most of the clubs in our peer group in terms of ladies getting [to play] golf".
"I would feel better if I had ladies in the club but that's their [Muirfield's] prerogative, it's their choice," added Player.
"But what I love are the traditions they still have. You go into the clubhouse to have lunch and you've got to wear a tie. There are no hats allowed inside - everyone these days wants to wear jeans and sneakers.
"I'm of the old school. I just love the ambience of the place and long may it continue.
"It's run as a golf club should be run. I love Muirfield."