The Open 2013: Jacklin's agony, Faldo's ecstasy at Muirfield

Last updated on .From the section Golf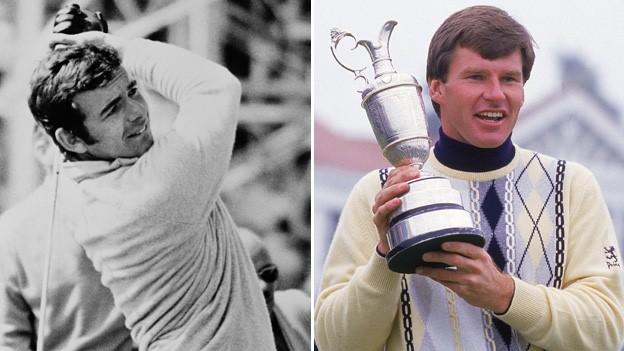 Muirfield will hold very different memories for two Englishman when the Open returns to the iconic Scottish links this week.
For Nick Faldo, it is a joyous return to the site of his major breakthrough and two of his three Open titles. For Tony Jacklin, it is an agonising reminder of what might have been.
Jacklin's Muirfield mauling at the hands of Lee Trevino in 1972 "knocked the stuffing out of him" and saw him fade as a major force at just 28.
The most successful British player of his generation, Jacklin was at the vanguard of the world game tussling regularly with stars such as Jack Nicklaus, Gary Player and Trevino.
He won the Open at Royal Lytham in 1969, the first Briton for 18 years to lift the Claret Jug. And he followed it up by becoming the first British player to clinch the US Open for 43 years when he won at Hazeltine in 1970.
Until Justin Rose's triumph at Merion last month, Jacklin was the last Englishman to win the US major.
So the Scunthorpe-born son of a lorry driver was on the crest of a wave going into the 1972 Open, with a win on the US Tour earlier in the year.
The hot favourite was Nicklaus, who had won the Masters and the US Open already that year and was eyeing the third leg of the Grand Slam.
But after two rounds Jacklin and colourful Mexican-American Trevino, a former caddie and US marine, led a group that included Nicklaus and Player by one shot. Going into Saturday's final round - the Open ran Wednesday to Saturday in those days - the motor-mouthed Trevino was one clear of Jacklin with Nicklaus six adrift.
"Trevino said to me on the first tee on the last day: 'Whichever one of us wins this will be remembered as the guy who stopped Nicklaus getting the Grand Slam,'" Jacklin told BBC Sport.
By the 17th tee, Jacklin and Trevino led by one from Nicklaus. Trevino then hooked his drive into a bunker, splashed out sideways, and hooked his second short of the green.
"When he started hooking you knew you had him," said Jacklin, who admits he found Trevino's constant chatter off-putting.
A poor approach put Trevino over the back in four. Jacklin was on the green in three, looking at a birdie putt.
But Trevino, as he had done three times already that week, chipped in for a par five. Jacklin was shaken, having witnessed each of Trevino's "gifts from the Gods" as he called them, and three-putted from 15ft for a bogey.
"I was over-exuberant and took a rush at the putt. It went two and a half feet by and I missed the return. I was pretty shaken," added Jacklin.
"It was the way he was half trying, sort of a lost cause. He nonchalantly went up - you could see the way he played the hole he was beaten up a bit - and he chips this thing and it goes in again.
"It was a critical time; I had the upper hand at that point. My reaction was, 'you son of gun, you're not going to beat me like this'. That was my mindset, but it turns out it wasn't right for the moment. It was time for patience and I didn't show the patience. A chink in the armour."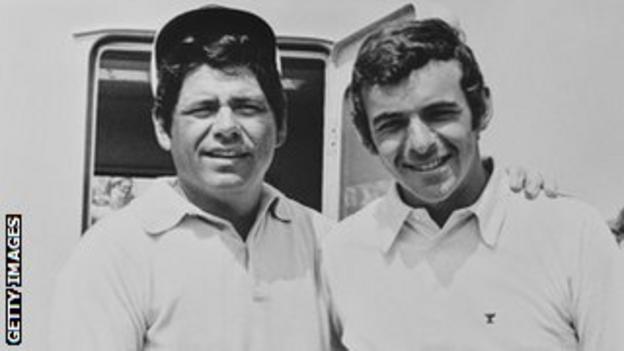 Jacklin caught a bunker with his drive on the 18th and finished with another bogey to end third, with Nicklaus firing a 66 to sneak second. Trevino defended the title he had won at Royal Birkdale the year before and clinched the fourth of his six majors.
"To battle for four hard days against the best in the world and then have somebody whip it from under your nose in that fashion with four chip-ins, it's hard to recover," said Jacklin.
"I was never the same again after that. I didn't ever get my head around it - it definitely knocked the stuffing out of me somehow.
"I remember Arnold Palmer and Jack Nicklaus coming up to me that night at dinner at the Greywalls Hotel, saying, 'Don't let it change your outlook'. But of course it did. I certainly never challenged again in a major."
Jacklin went on to win a handful of tournaments on the European Tour, but will be best remembered for changing the tide of the Ryder Cup, as Europe's most successful captain from 1983-1989. Victory over Trevino's US team at The Belfry in 1985 - the first US defeat since 1957 - was little consolation for Muirfield.
His decline, he says, was also linked to advice from management company IMG to move Jersey - for tax reasons - but stay in Europe to support the fledgling tour rather than relocate to the United States.
"All the Brits doing any good now are in the US playing against the best in the world every week," said Jacklin. "That's where I should have been.
"I was being run ragged because I was playing on the US Tour and trying to support the beginning of the European Tour. I was back and forth over the Atlantic on a monthly basis. It wasn't an easy time."
If Jacklin's tale is a warning to Rose and others on the fleeting nature of success, Muirfield holds nothing but good memories for Faldo. Like Jacklin, he was the best player of his generation and topped the European Order of Merit in 1983.
But infamous collapses at that year's Open and the 1984 Masters earned him the nickname "Nick Foldo".
So in a bid to take his game to the next level, Faldo undertook a complete swing rebuild with coach David Leadbetter in early 1985. These were the so-called "wilderness years" when Faldo's game nose-dived.
But the work was paying off, and after some near misses he landed his first win for three years at the Spanish Open in May 1987. Convinced he was ready, Faldo set off for that year's Open at Muirfield. Early in the week he saw his name at the top of a leaderboard. "It was only in my mind's eye," he wrote in his autobiography. "But I thought, 'OK, I can handle that'.
One shot off the lead of American Paul Azinger going into the final round, Faldo parred all 18 holes to set the clubhouse target, one clear of Australia's Rodger Davis.
Azinger bogeyed the last two and the Englishman was Open champion. "I've finally done it," mumbled a shell-shocked Faldo.
By the time the Open returned to Muirfield in 1992, Faldo was a four-time major winner with two Masters and two Opens under his belt. But his most recent had come at St Andrews in 1990 and the press were sharpening their knives.
The Englishman held a three-shot lead on the Friday night after rounds of 66 and 64 and increased it to four over Steve Pate and John Cook after Saturday's third round. "The pressure was enormous," added Faldo.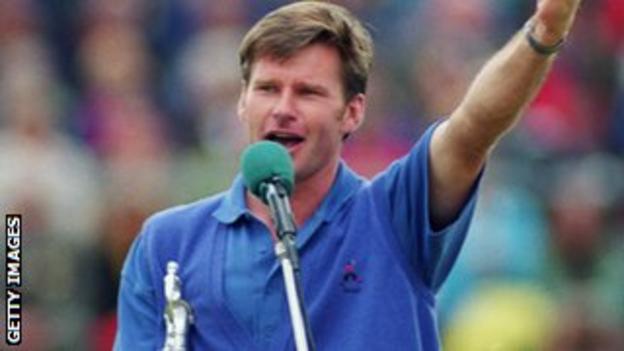 "I was fully aware that if I didn't win it would be seen by some as an abject failure and all the old 'Nick Foldo' jibes would resurface."
Faldo was still three in front with eight to play but began to wobble. After 14 holes he trailed Cook by two. "I'm all right, I'm not choking," he kept telling caddie Fanny Sunnesson. But Faldo dug deep as Cook crumbled and won by one to clinch a third and final Open title.
"Even after all these years it is impossible to explain to outsiders the mental torture I endured that Sunday afternoon, knowing I could have lost the title after having one hand on the trophy," he wrote.
On receiving the Claret Jug, Faldo treated the crowd to an impromptu rendition of Frank Sinatra's "My Way". He followed this up by thanking the spectators from the "bottom of his heart" and the press from the "heart of his bottom", in reference to the recent rash of negative articles about him.
"I regret mangling 'My Way' but I refuse to apologise for thanking Fleet Street from the 'heart or my bottom' because the comment was offered as a light-hearted dig and should have been accepted as such," he added.
Faldo's Open victory remains the most recent by an Englishman. Rose has ended one long losing streak this summer with his US Open win. Maybe he can end another at Muirfield.