Scottish Open 2013: Castle Stuart excites Phil Mickelson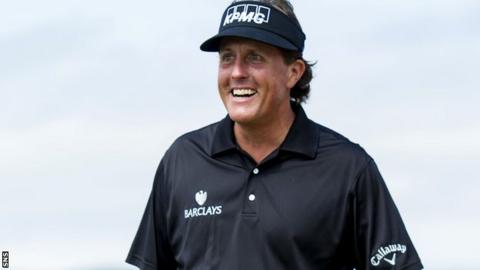 Scottish Open
Venue:

Castle Stuart, Inverness

Date:

11-14 July

Coverage:

BBC Radio Scotland will provide daily commentary
Four-time major winner Phil Mickelson insists the Scottish Open at a "stupendous" Castle Stuart is ideal preparation for the Open at Muirfield.
The 43-year-old, ranked eighth in the world, tees off on Thursday at the Highland links course.
"Castle Stuart is one of the best golf courses I've played," said Mickelson.
"Bones [his caddy Jim Mackay] walked the course yesterday and said it's just like it has been the last two years, which is stupendous."
He added: "I just love it and love the tournament."
Mickelson is one of only two of the world's top 25 ranked players taking part in the tournament - the other being South African Ernie Els, who is ranked 13th.
But the American is in no doubt that coming to the Scottish Open is a key part of gearing up for Muirfield.
"It gives me a chance to work on my shots along the ground; my short game; putting," Mickelson said.
"Everybody has to work out what works best for them to get ready for the big events.
"Most of the guys are trying to work out how to peak and play their best golf next week, and for me, it's to play the week before."
Els, winner of the Open in 2012, and who has also won the Scottish Open twice, holds a similar opinion.
"I would've thought more international players would've shown up here," he said.
"But some of the guys feel they don't get a real test here which is quite remarkable. But it is what it is and I think we've still got a great tournament.
"We've got Phil [Mickelson] who's come over from the United States, which gives a lot of credibility to the tournament."
The Castle Stuart course has been criticised by some for not providing a stern enough test.
But in what will be his 18th appearance at the Scottish Open, Els, nicknamed 'The Big Easy', does not mind an easier course if it helps his confidence.
"I love this golf course and I think they've done an unbelievable job here," he said.
"I don't mind making birdies going into a major, because I know I'm going to get punished next week.
"I like to have some sort of form going into a major."